Mulholland Drive
(2001)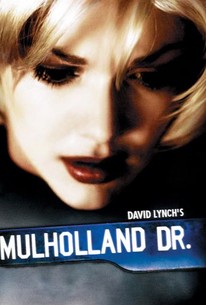 TOMATOMETER
AUDIENCE SCORE
Critic Consensus: David Lynch's dreamlike and mysterious Mulholland Drive is a twisty neo-noir with an unconventional structure that features a mesmirizing performance from Naomi Watts as a woman on the dark fringes of Hollywood.
Movie Info
Along Mulholland Drive nothing is what it seems. In the unreal universe of Los Angeles, the city bares its schizophrenic nature, an uneasy blend of innocence and corruption, love and loneliness, beauty and depravity. A woman is left with amnesia following a car accident. An aspiring young actress finds her staying in her aunt's home. The puzzle begins to unfold, propelling us through a mysterious labyrith of sensual experiences until we arrive at the intersection of dreams and nightmares.
News & Interviews for Mulholland Drive
Critic Reviews for Mulholland Drive
Audience Reviews for Mulholland Drive
One of the most complex, seductive and brilliant journeys into the obscure underworld of the unconscious mind to ever be experienced, brought to us by the incredible mind of a filmmaker who pulls us into an elaborate dreamscape that holds the key to an extremely sad reality.
Carlos Magalhães
Super Reviewer
"It'll be just like in the movies. Pretending to be somebody else." A recent poll by BBC Culture surveyed the opinion of film critics, academics, and curators from 36 countries across every continent which consisted of 177 of the worlds foremost movie experts. They were tasked to compile an international list of the top 100 films released since the year 2000 to come up the best film of this century so far. It's no easy task but when all was said and done, the film that topped the list was David Lynch's hallucinatory and meditative film-noir, Mulholland Drive. It came as a surprise to some but for those familiar with the film itself, it was a fitting accolade. After a car crash leaves her with amnesia, Rita (Laura Harring) has no idea who she is or where she's come from and wanders around the streets of Los Angeles in a daze. She eventually finds refuge in an apartment where she is found by ambitious young actress Betty (Naomi Watts). Betty and Rita then work together and investigate the mystery of Rita's condition and seek the answers to her true identity. It's pretty much common knowledge now that Mulholland Drive was a failed proposal by Lynch to embark on a new television series. Originally conceived while filming Twin Peaks, it was to be a spin-off featuring the character of Audrey Horne (which was played by Sherilyn Fenn). Lynch went on to direct a 90min pilot for ABC but, in the end, the network executives rejected it. As a result, Lynch rejigged and regurgitated the material into a feature film and produced, arguably, his finest work to date. So complex is Mulholland Drive that Lynch released 10 clues to help in deciphering the plot. It's in my opinion that these 10 clues are actually useless. Lynch notoriously doesn't explain his work and the clues he provides only serve as a false pretence in which to view the film. He toys with our perceptions and preconceived ideas of how a film should be constructed. I've viewed the film many times and the clues predominantly lead to a dead end. This is a film that demands numerous viewings and yet can still come out different each time. That is the sheer genius and craftsmanship that has went into it. There's a lot about the film that simply isn't explained; narrative arcs and characters appear and then disappear. This could have been intentional or it could have been the result of the material being planned for a long running TV show where they would've been explored in more detail. Either way, it works and adds to the hallucinatory vibe that courses throughout. It could be argued that the film is just a series of scenes loosely tied together and it's up to the viewer to interpret for themselves. Like Lost Highway, what the individual viewer brings to the experience is what they will walk away with. If you invest the time and respect to Lynch's vision, you will be richly rewarded. It operates on many levels and the lines between fantasy and reality are constantly blurred. Some claim it to be a parallel universe, or repurposed elements to a person's failed past but the strongest interpretation is that it's predominantly a disconcerting dream state involving displacement and transference and where the reality and the fantasy intertwine. The significance of the The Cowboy and his cryptic messages, the importance of the blue key and the blue box, the uneasy encounter with the man behind Winkies and the moment at Club Silencio where we are reminded that what we see isn't necessarily always real. All of these tie-in with the symbolic importance of dream imagery. It can also be viewed as a cynical and scathing indictment of Hollywood culture - which could be a direct reference to the problems that Lynch has faced with studios in the past or even the issue that he faced in trying to promote this particular film as a TV show. At one point in the film, studio bigwigs try to influence a director's decision on whom he casts in his film. This was purportedly what Lynch faced by casting unknowns Watts and Harring in the lead roles here and one of the reasons that ABC rejected it (apparently they were too old). They couldn't have been more wrong, though, as Watts delivers masterful work. There are at least three different interpretations to her character and she nails every one of them. She showcases her extensive range which, considering the narrative of the film, ironically made her a Hollywood star overnight. Form over structure and the combination of sight and sound has always been a major attribute to Lynch's work and in Mulholland Drive, they are integral to the overall composition. Regular Lynch composer Angelo Badalamenti's haunting score compliments the uneasy mood and atmosphere created by Peter Deming's foreboding cinematography, lending the film a truly sinister and ethereal feel. The biggest achievement though, is how much Lynch respects his audience's intelligence without compromising or diluting the concept. This is a visual jigsaw and putting it together is a very challenging endeavour. Many, if not all, viewers will find pieces that just don't to fit. That aside, this is still an intoxicating mystery and even when it's seemingly inexplicable it's still gripping and hugely involving. Those who like their narrative spelled out for them needn't bother but those that enjoy a challenge will be enthused throughout this fascinating piece of work. We've all had those dreams where people, places and events are twisted and distorted and that's exactly what Lynch captures. There is a running, logical narrative that courses underneath it but it's very much delivered in dream logic. Any coherent interpretation lies within the importance of it's symbolism. When you consider Lynch's filmography over the years, this feels like the film that he has been building towards. All of his usual themes are on display; the psychological duality in an individual and the juxtaposition of innocence and corruption, beauty and depravity, shattered dreams and living nightmares. Put simply, it's an abstract masterpiece. Mark Walker
Mark Walker
Super Reviewer
Having bewitched audiences with the likes of Eraserhead, Blue Velvet and Twin Peaks, David Lynch has once again shifted the goalposts of filmmaking as he enters the fourth decade of his career. Mulholland Drive is an astonishing, extraordinary piece of work, a mesmerising masterpiece and the jewel in Lynch's crown. It is a beautiful, hypnotic, twisted and strange film which draws the viewer inescapably into a unique and fascinating universe of crime, dreams, sex and tragedy. It is, quite simply, the best film of the decade. As with much of Lynch's work, there is no simple way to describe what Mulholland Drive is about. Lynch himself has always been coy or hesitant to give meaning to his films, leading some to brand him as the Lars von Trier of surrealism. There is a possibility that his whole career is a prank, and behind those kinetic hands and immense head of hair, he is secretly laughing at us. There have been instances in Lynch's career where he has been self-indulgent or excessive, but he is genuine in everything he does, and Mulholland Drive is proof of it. Hence when we come to identify the themes of the film, and attempt to unlock its symbols, we realise very early on just how many different interpretations there could be. In fact - to go all self-reflexive for a brief moment - writing about Mulholland Drive is emphatic proof of the subjective nature of film; what I write is what I understand to be true, but I must acknowledge even as I write these words that there are many other ways of seeing the same thing. Not since 2001: A Space Odyssey has a film sparked so much dispute and discussion over its meaning and implications, and my piece, however well-constructed or meticulous, cannot give you all the answers. That is the eternal appeal of Lynch, of all great filmmakers, and is one of the great joys of life. The experience of watching Mulholland Drive echoes the experience of writing about it. It is one of a very rare breed of films which hold you in such a hypnotic state that your normal critical faculties become temporarily suspended. You slowly forget to pay very close attention to the mystery at the heart of the plot, because the sense of mystery is so all-pervading that it engulfs everything. You stop trying to unpick scenes to decipher what they might mean, because they are staged in such an eerie and beautiful way that you simply have to sit transfixed and let them wash over you. This is not to say that the film doesn't want you to think - on the extreme contrary. Mulholland Drive is a hugely intelligent film, and every shot feeds you with information through its visuals, its dialogue or simply its sense of atmosphere. Angelo Badalamenti's unusual score sends shivers down your spine, and almost every conversation consists of broken dialogue; as in Blue Velvet and Twin Peaks, there is a constant sense of threat and unease, with any reassurance feeling like the opposite. Because there is no natural flow from what one character is saying to the next, you find yourself moving at the pace of the film, waiting on every word they say in the knowledge that it will be significant. Mulholland Drive is prominently about dreams, specifically the relationship between dreams and reality. There is no straightforward narrative which is easy to follow; to paraphrase Roger Ebert, in dreams the mind only focuses on what fascinates it at that instance in time. It makes no sense to impose something as abstract and heartless as logic onto such a surreal and subtly shifting landscape; to do this would only confuse us further. Instead we simply have to embrace the experience and see where it takes us - we have to dream as the film dreams. The film has been described as a 'poisonous valentine to Hollywood', since it marries a fleeting celebration of Hollywood and acting to Lynch's continuing themes of darkness and horror lurking not far beneath a beautiful surface. Mulholland Drive takes his thesis of 'small towns with secrets' from Blue Velvet and Twin Peaks, and expands it to an entire city; everyone is part of this world where simultaneously dreams are made and lives are nightmarishly torn apart. One aspect of the plot is about creativity, self-belief and natural talent struggling against a system where power and connections are everything. The scenes involving Justin Theroux's director being intimidated by the mob are a sly allegory for Lynch's nightmarish experience on Dune. His character goes from defiance to sheepishness and reluctant acceptance; the Cowboy he encounters could either be his conscience or the personification of the system, winning by its old-fashioned combination of muscle and clever talk (or in this case, non sequiturs). The film is also an examination of the nature of acting, in which characters or identities are created and inhabited for short, disconnected periods of time. This is an illuminating observation, and ties in with the overall theme of dreams and reality. For the first two hours, we follow Betty Elms, played brilliantly by Naomi Watts. She is an aspiring actress who comes to Hollywood to seek her fortune. At the same time, a woman (Laura Elena Harring) has a car accident which makes her lose her memory; she wanders from the eponymous road through the streets of Hollywood, ending up at the house where Betty is staying. Betty befriends 'Rita' (who takes her name from a poster of Rita Hayworth), helps her find her identity, and the two become lovers. In the final half-hour, once the blue box has been opened, we find that everything has changed. Watts' character, now called Diane, is a failed actress while Harring's character, now called Camilla, is about to marry a successful director (Theroux). Diane is immensely jealous of Camilla's success and hires someone to kill her. But once the deed is done, she is driven crazy by guilt, regret and a longing for affection, and ends up shooting herself. The most generally accepted version of events - and the one to which I personally subscribe - is that the initial period is Diane's dream and the last half-hour is the bitter reality. Diane invents the characters of Betty and Rita to escape her grim reality, or re-experience the past. Betty is intelligent, resourceful, confident and destined to be a star - just look at her audition for the film, in which she seduces both us and the film crew. Rita by contrast is pathetic, frightened and vulnerable; she is the perfect means for Betty to satisfy her ego, and their scenes of lovemaking are essentially self-love. But those who dream cannot dream forever, and many dreams end with cracks of reality begin to break through. In both the 'dream' and 'reality', Camilla Rhodes is the obstruction preventing Diane/ Betty from realising her ambitions: in the 'dream' she is cast in the role she wants (thanks to the will of the mob), and in the 'reality' she is her ex-lover who has grown weary of her charms. The colour blue is another symbol which demonstrates this: the blue box is a passageway between the dream world and the real world, and Betty begins to convulse when the blue lights flash around Club Silencio. Diane's dream is the ultimate expression of her inability to accept that she is a failure, both professionally and personally. Like the lead character in Sunset Boulevard (which is referenced in the opening minutes) she falls from brief stardom and egomania to obscurity, self-loathing and destruction. She masturbates in a desperate attempt to recapture that sense of ecstatic affection she felt as a star. But soon the ghosts from her past drive her over the edge and she chooses death over another day in her personal hell. Mulholland Drive is one of the most open-ended, ambiguous, mind-bending and mesmerising films you will ever see. Any attempt to address or summarise the issues it raises will only scratch the surface; there is too much going on in this powerfully hypnotic film to reduce down to pithy one-liners and short paragraphs. Multiple viewings are essential if one is to unlock every puzzle, and each viewing only improves the experience as more ideas come to light and new puzzles emerge to stimulate your mind. It is a truly extraordinary experience, with stunning performances, perfect direction and simply gorgeous visuals, all of which blend together effortlessly into what can only be described as a masterpiece.
Daniel Mumby
Super Reviewer
Mulholland Drive Quotes
| | |
| --- | --- |
| Cowboy: | A man's attitude... a man's attitude goes some ways. The way his life will be. Is that somethin' you agree with? |
| Adam Kesher: | sure |
| Adam Kesher: | Sure. |
| Cowboy: | Now... did you answer cause you thought that's what I wanted to hear, or did you think about what I said and answer cause you truly believe that to be right? |
| Adam Kesher: | I agree with what you said, truthfully. |
| Cowboy: | What'd I say? |