Mulholland Falls
(1996)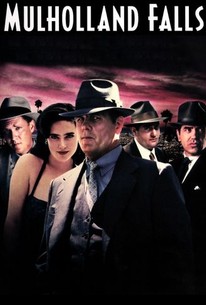 TOMATOMETER
AUDIENCE SCORE
Critic Consensus: Mulholland Falls' vacant characterizations and thin story undercuts its impressive cast and potent style, making for an empty exercise in noir posturing.
Movie Info
Set in 1950s Los Angeles, this film centers on the crime investigation of the notorious "Hat Squad," members of the LAPD noted for being natty dressers. They were also known for using unorthodox and violent methods for taking care of crooks.
News & Interviews for Mulholland Falls
Critic Reviews for Mulholland Falls
Audience Reviews for Mulholland Falls
Released in 1996, Lee Tamahori's Mulholland Falls has largely been overshadowed by the Oscar winning L.A. Confidential - which followed a year later. Although I often find fault with the Academy, on this occasion, I'm not going to split hairs them and argue that Tamahori's film is as good, because it's not. But that's no shame in Tamahori's efforts as, for me, L.A. Confidential is one of the best films over the last 20 years. Mulholland Falls is a very admirable attempt that doesn't deserve to have become a forgotten addition to L.A. themed noir. Plot: Post WWII, Los Angeles sees the LAPD set up a special crime unit known as "The Hat Squad". It comprises of four no-nonsense Lieutenants: Max Hoover (Nolte), Ellery Coolidge (Palminteri), Eddie Hall (Madsen) and Arthur Relyea (Penn). They are tasked with controlling organised crime within the city - even if it means breaking the law themselves - but when they find the crushed body of a young woman, it opens up some personal demons for Hoover. Her death also implicates the involvement of the U.S. Army and attracts the attention of the F.B.I. Over decades, L.A. Noir has become a sub-genre all to itself. For many, Chinatown is the epitome but my preference is the aforementioned L.A. Confidential. I think Curtis Hanson and Brian Helgaland done a fantastic job in developing a coherent script from a very difficult James Ellroy novel but all that aside, L.A. Noir isn't always an easy endeavour. There are some that promise so much but fail to deliver - Gangster Squad being a recent example of how it can go wrong. In order for stories of this type to be effective, there are many things that need to come together; the cast, the script, the cinematography and the music are all important to setting the mood and, for the most part, Mulholland Falls manages to capture all of these. First of all, Tamahori assembles a very impressive line-up of performers which lends the film an epic feel and the script by Pete Dexter captures the requisite mystery and intrigue to hold your attention. Haskell Wexler's cinematography precisely captures the time and Dave Grusin provides an evocative and dramatic score. The production design by Richard Sylbert is also flawless as you should have no problem feeling like you're back 1950's L.A. Everything fits here, but it's only as the film comes to the denouement that it starts to falter and if any fingers must be pointed, they'd have to be pointed to Pete Dexter's script. Things make less sense as the film draws to a conclusion. The tempo is accelerated to the point that you feel like Tamahori may have been under studio pressure to finish within a certain running time. This is such a shame, as the film is genuinely entertaining and very particularly paced up until that point. It's the exclusion of Chris Penn and Michael Madsen in the final third that lead to some questions over the film being butchered in the editing suite. And this comes just around the time of the film's reveal. The reveal itself is acceptable but it would have been more effective had it not been fumbled. That said, the only reason this stands out is because the earlier part of the film is so measured and involving. Benefitting greatly from its attention to mood and atmosphere, there's much to admire here. It's a reminder of how strong a presence Nolte can be and he's supported by an impressive ensemble. Mulholland Falls is a damn good slice of noir that enthusiasts will take plenty of enjoyment from. Mark Walker
Mark Walker
Super Reviewer
The glory days of the chain-smoking LA cops' "hat squad" are brought back in this stylish neo-noir conspiracy thriller. They represent a tough, no-nonsense approach to criminals, with just the right amount of smart-aleck humor thrown in (not annoyingly constant like The Expendables). Director Lee Tamahori captures all the atmospherics and details of the "atomic age." The cast is fantastic, led by emotional performances by Nolte and Griffith. Jennifer Connelly is a mesmerizing, enchanting beauty. She plays a world-wise girl who still manages to stay fresh-faced. The spot-on recreation of LA's bygone glamour era, the conspiracy-laden plot, and the excellent cast highlight this film. I'm a sucker for neo-noir, and although this isn't quite Chinatown, it is a valiant effort. Tamahori and writers Dexter and Mutrux even chose to end the film on a down note. The squad's broken up, and Griffith leaves Nolte, exclaiming "You broke my heart, Max." Noirs shouldn't have happy endings.
Clintus Maximus
Super Reviewer
This movie needed more Jennifer Connelly, and it needed to be in black and white. I'm sorry, but noir never really works for me unless it's steeped in shadows and a colorless world. That's just what I've been conditioned to expect from a good noir movie. If Mulholland Falls would have been set in the modern day, I think that the color wouldn't have bothered me as much, but the combination of the time period and the style makes the colorization just to much for me to tolerate. As for Jennifer, she's the crux of the film, but we don't get to spend very much time at all with her. We don't get a sense of who she is and why she did the things that she did, and that greatly lessens the impact of her death. If you don't care about the core of the story, then it's difficult to have any real investment in the rest of the movie. In all honesty, even if the movie was in black and white and Jennifer Connelly had two times more scenes, this movie would probably still be boring. I just never cared or was interested in what was going on. Michael Madsen was wasted, there wasn't nearly enough of John Malkovich, and Nick Nolte was just smacking people and looking grim. Mulholland Falls gets two stars for Jennifer Connelly's magnificence, but even her wonders barely made it worth watching.
Mulholland Falls Quotes
| | |
| --- | --- |
| Max Hoover: | Human sacrifice is the cornerstone of civilization. |
| Max Hoover: | He said the cornerstone of civilization was human sacrifice. |