Multiple Maniacs
(1970)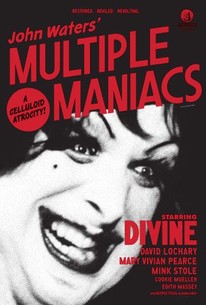 Movie Info
John Waters' gloriously grotesque, unavailable-for-decades second feature comes to theaters at long last, replete with all manner of depravity, from robbery to murder to one of cinema's most memorably blasphemous moments. Made on a shoestring budget in Baltimore, with Waters taking on nearly every technical task, this gleeful mockery of the peace-and-love ethos of its era features the Cavalcade of Perversion, a traveling show put on by a troupe of misfits whose shocking proclivities are topped only by those of their leader: the glammer-than-glam, larger-than- life Divine, who's out for blood after discovering her lover's affair.
Critic Reviews for Multiple Maniacs
Audience Reviews for Multiple Maniacs
Not the greatest flick of Waters but it is one of the funniest, Divine stars as a ring mistress who operates a carnival that robs the patron, until she got bored and decided to kill them. Everything went wrong from that point onward. It was crude and silly but it was hilarious. Fans of John Waters won't be disappointed.
Sylvester Kuo
Super Reviewer
The film is a little uneven, unsure of where to go exactly and how to get there, but, trust me, what a fun ride it is. The cast is in top shape as always, and like in any Waters film there are plenty of shocks to be found. Always hilarious and highly enjoyable.
Quinto Wallight
Super Reviewer
I watched this a couple of months or so ago, decided to chew it over before reviewing and now I come to do so I can't remember a great deal about it, which possibly tells you all you need to know about the quality of the movie. Poking fun at, among other things, the Roman Catholic church and the victims of the Manson Family, Multiple Maniacs certainly goes for the jugular in terms of tastelessness; the problem is, it's just not funny enough. John Waters is quite capable of writing amusing dialogue but there's precious little on display here. Instead, the movie is littered with tedious, over-talkative scenes that take an eternity to go nowhere, and even the two most infamous sequences - the "rosary job" administered on Divine by Mink Stole and the surreal appearance of "Lobstora" - outstay their welcome by several minutes. Curiously, Multiple Maniacs works best in its quieter moments, when it's not desperately trying to be offensive. For example, as I've said, the "rosary job" goes on forever and isn't all that funny, but the build up, with Divine's voiceover telling us one thing and the visuals exactly the opposite, is highly amusing. I also enjoyed David Lochary and Mary Vivian Pearce's star-crossed lovers routine.
Multiple Maniacs Quotes
There are no approved quotes yet for this movie.