Multiple Sarcasms
(2010)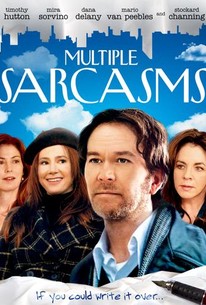 Movie Info
A frustrated architect tries his hand at being a playwright when his life hits a disheartening plateau. New York City, 1979: Gabriel Richmond (Timothy Hutton) is a family man with a high-paying job. Lately, however, he's been skirting his responsibilities -- both at home and at work. Turning introspective, Gabriel decides to pen a play about his life and his family. The goal is to be as honest and objective as possible, and the process ultimately proves somewhat therapeutic as he revisits his past decisions and ponders how he'd live his life again if given a second chance. But just as Gabriel's play starts to come together, his life starts to fall apart. Mira Sorvino, Mario Van Peebles, and Stockard Channing co-star.
News & Interviews for Multiple Sarcasms
Critic Reviews for Multiple Sarcasms
Audience Reviews for Multiple Sarcasms
½
A fine cast cannot save this rumination on male menopause and apology, so inert, so bad, so lifeless, that the mere description repells. Who greenlighted this? What could the pitch have been? ("Let me make this or I'll tell ... !" comes to mind) The home shopping network has more appeal, or the Disney Channel.
Kevin M. Williams
Super Reviewer
The film was so so. It needed a rewrite. It seemed at times that it wasn't balanced. The pacing was off. On the positive the film does have some great scenes in it. Timothy Hutton is ok as the lead, but I was expecting better from him. Mira Sorvino steals the film. She is great in every scene of the film. Stockard Channing, Dana Delany, and Mario Van Peebles provide solid supporting work here. It was great seeing Joan Jett in the film. The film is worth checking out for Mira Sorvino's performance.
½
In "Multiple Sarcasms," Gabriel(Timothy Hutton) takes the day off from work as an architect to go to the Cinema Village to see "Starting Over" and in the process helps a homeless man. His boss Rocky(Mario Van Peebles) has been noting his lack of interest at work for a while, especially on a project for Lauren(Laila Robins). A lot of that has to do with trying to write a play but since it is not yet complete, Pamela(Stockard Channing), an agent, will not represent him since she "represents playwrights, not schmucks," hanging up on him. Also sensing something amiss with her husband and wanting to get into the bathroom at some point, Annie(Dana Delany) suggests a trip to visit her relatives. While it might be tragic for a person not to live up to their true potential, it can also be a little sad for a movie to do so which is true for the underwhelming "Multiple Sarcasms" with its totally unnecessary vulgarity. The movie has an intriguing premise and a great cast but even they cannot redeem something so flatly executed. The promise comes from hints at a meta approach to a midlife crisis but that only comes at the very beginning and end, leaving a vast wasteland in the middle. To be honest, any games of what if should end when a person first becomes a parent which is the point of no return.
Multiple Sarcasms Quotes
There are no approved quotes yet for this movie.