Mumford
(1999)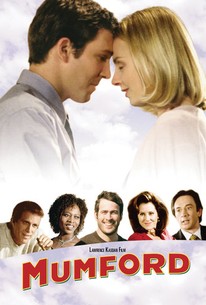 Movie Info
Lawrence Kasdan wrote and directed this comedy about a young psychologist named Mumford (Loren Dean), who arrives in a small town and sets up a practice. Mumford's style is short on analytic mumbo-jumbo and long on practical advice, and he soon finds that he has a long list of satisfied clients in his new home town, including many of the city's most prominent citizens. Mumford's advice also helps love bloom among the city's single residents. However, the city already had a psychologist, Ernest Delbanco (David Paymer), who is quickly losing business to Mumford. So Ernest starts asking questions: who is this Mumford, and just what are his qualifications? Mumford's supporting cast includes Ted Danson, Martin Short, Alfre Woodard, Hope Davis, Jason Lee, and Pruitt Taylor Vince.
News & Interviews for Mumford
Critic Reviews for Mumford
Audience Reviews for Mumford
This quiet charmer of a piece by Lawrence Kasdan posits, like the old Bacherach number suggests, " what the world needs now is love,sweet love". Loren Dean is perfectly cast as the unassuming and sedate soul prepared to hear whatever it is one might have to say ... only who is he exactly? Don't let this underrated bit of old style whimsy pass you by.
Kevin M. Williams
Super Reviewer
Mrs. Crisp: What kind of doctor are you? Dr. Mumford: Ph.D. in psychology. Mrs. Crisp: Oh. Not a real doctor. Dr. Mumford: That's right, the fake kind. Here's a funny little comedy involving an easy to get along with shrink, living in a small town filled with a bunch of quirky people who like to talk to him. Loren Dean is Dr. Mumford. You may not have heard that name before, but he's in a bunch of movies, usually in those small character roles that are filled appropriately. The story revolves around Mumford and his patients, how he gets by, and an eventual twist in the story. The film was written and directed by Lawrence Kasdan, who among other things, was a screenwriter for two Star Wars films, Raiders of the Lost Ark, and a number of other films usually very character based. The man knows what he is doing. The movie features an ensemble cast that includes the always reliable Jason Lee, Ted Danson, Martin Short, David Paymer, Alfre Woodward, Hope Davis, and Zooey Deschanel. Each of these people all have there own things going on, but they are all entertaining characters. Lee's character for example is a normal guy who created a piece of technology and is now one of the richest guys in the country. But, he's lonely and has his own way of trying to please himself. This whole movie is very simple, but funny, and likable, like the town that they all live in. Skip Skipperton: Do you know how I spend my every single solitary moment? Dr. Mumford: Jerking off? Skip Skipperton: No, that's a good guess though!
Aaron Neuwirth
Super Reviewer
½
A lot better than I thought it would be.
Michael Gildea
Super Reviewer