The Mummy's Curse
(1944)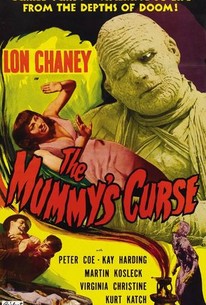 Movie Info
In this 1944 sequel to The Mummy's Ghost, mummies Ananka and her lover Kharis are removed from a Louisiana swamp and studied by a group of archaeologists. Of course, the undead awaken yet again and cause their usual amount of entertaining consternation.
Critic Reviews for The Mummy's Curse
Audience Reviews for The Mummy's Curse
Moving the inaction of this series to the Louisiana Bayou, the Mummy gets extricated by archaeologists, only for an evil Egyptologist to resurrect him and his thoughts of endless love. For its plus, The Mummy's Curse boasts an original story not pieced together from other Universal Horror staples. Nonetheless, with this unnecessary go-round, this creature feature sputters to a stop simply because the series is out of gas. In this unrated continuation of the Universal horror series, an irrigation project unearths Kharis the living mummy (Lon Chaney, Jr.), who was buried in quicksand 25 years earlier. And, of course, he goes on a killing spree. Still a bit fun but shambling long past its sell-by date, this Mummy tale sees Chaney return for his last lead-footed turn as Kharis. Some new writers point the goings-on in a different direction but Curse, filmed the same year as Ghost, just can't distinguish itself away from its last 3 ragged forebears. Bottom line: That's a Wrap
Here we go again. All of a sudden we're in the swamps of Cajun country and a character gives some exposition about this being another 25 years after the Mummy last attacked. The writers are completely different on this one, so I'll attribute it to them not paying attention. This was released in the same year as The Mummy's Ghost, but was not filmed simultaneously from what I can tell. Did you think there could be a Mummy movie without a high priest going over the same ancient Egyptian clips with Karloff and Tyler? Of course not! This time Dr. Zandaab (Coe) explains the secret of the Arkan priests to Ragheb (Kosleck), yet he is not on his deathbed, so we have two priests who pledge themselves to return Kharis and Ananka to their ancestral sands. An irrigation project crew in Louisiana is doing a lot of digging. Dr. Zandaab and Dr. Halsey (Moore), who has no idea his Egyptian colleague has more sinister plans, wish to find the mummies for the sake of the museum. There is a saloon nearby with all its regulars too. The cast is filled with so many stereotypical bayou characters. I thought the art direction and camera work looked really good through most of the picture, especially in the scene where Ananka (Christine) rises again. Virginia Christine is another very beautiful woman playing the confused ancient princess in another body. She seems to be rejuvenated by the sun, but there are many things that are not made clear about how she survives looking glamorous, while Kharis looks as he does. The Mummy is a bit more sympathetic like Frankenstein's monster here. The two undercover Egyptian priests find Kharis fairly quickly, but it takes longer to chase down Ananka. The boss of the construction crew has a niece named Betty (Harding), who works as his secretary, and she falls in love with Dr. Halsey. Ragheb is the lustful priest, who tries to force Betty to become his bride for eternity. The relationships are a bit more complex, there is a bit more action and the effects are better in this picture. If you can forget the continuity problems between this and its prequels, it is an entertaining flick.
Byron Brubaker
Super Reviewer
½
The mummy is unearthed again, why? It's kind of annoying, but the story was a little better than other mummy movies.
The Mummy's Curse Quotes
There are no approved quotes yet for this movie.