The Mummy's Ghost
(1944)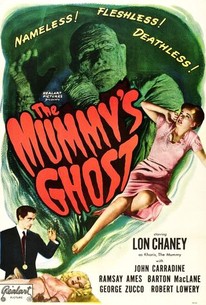 Movie Info
A sequel to The Mummy's Tomb, this horror film follows the quest of the reanimated mummy to find a beautiful woman who may be the reincarnation of his beloved Egyptian princess. Conflict arises when his companion, an Egyptian priest, decides he wants the girl for himself.
Critic Reviews for The Mummy's Ghost
Audience Reviews for The Mummy's Ghost
½
Looking for love and horror in all the wrong places, undead shambler Kharis returns with Lon Chaney, Jr. again in the stuck-on-Band Aid role...to what end, God only knows. Better than its predecessor by a Country Nile but a far cry from the Frankenstein series, Mummy Dearest searches for the spirit of his long-dead lover in a museum and - pause for laughter - college campus. By now, the thrills and story are enjoyably laughable...even when this chapter proves to be a bummer. That's right--The Mummy's Ghost gets bleak by the time the rags unfurl in the final act. Strangely, this twist in tone elevates the material a slight bit. In this unrated continuation of the Universal horror series, an Egyptian high priest (John Carradine) travels to America to reclaim the bodies of ancient Egyptian princess Ananka and her living guardian mummy Kharis (Chaney). At this point, Chaney coasts through the undemanding role and Carradine, who also played an anemic version of Dracula in House of Dracula, enacts the thankless role of racist Egyptian caricature masquerading as High Priest. For such a straight ahead horror romp, there's a lot of story here and both actors shamble and deliver to good effect. Bottom line: Tut Tut
Again two years have passed since the previous mummy film was made, but a professor, who was in the previous film, tells us that 25-30 more years have gone by since the mummy went on a killing spree in this Massachusetts town. He obviously hasn't aged that much. The event that happened some 30 years ago was Banning uncovering Princess Ananka's tomb and bringing the mummy's curse on his family. The writers, at least as credited, were nearly the same. Anyways, we're still in the same Massachusetts town, now with a large University at its center. I shouldn't be surprised anymore at all the inconsistencies in these monster movies. However, (what's this?!) Andoheb is still holding on to his last breath to pass on the medallion of the high priests of Arkan to Yousef Bey (Carradine). This is getting so repetitive. Look out! It's the same shots of Karloff and Tyler to explain Kharis' background. Carradine, in some dark makeup, heads to America to retrieve Kharis and Ananka. Meanwhile, the professor has been deciphering hieroglyphics and starts boiling tana leaves, which perks up the nostrils of Kharis, who needs his fresh brewed nightly sip of tea. Anyone who gets in his way dies. Kharis doesn't even wait for the high priest replacement to arrive in town. The local sheriff, a city inspector, and a doctor from the museum try to solve the mysterious murders. In the meantime, Tommy (Lowery) and Amina (Ames) are dating college students. Amina is supposed to be of Egyptian descent. She starts falling into these trances and doesn't remember anything afterwards. Ananka's soul has without explanation moved into Amina's body. Is she drawn to the tana leaves, the hypnotic prayers of the high priest, or Kharis' presence itself? We don't know. With each encounter with Kharis her hair starts to get white streaks like the Bride of Frankenstein. Tommy owns a little dog who helps, like Lassie or Toto, in tracking down the monster when he carries Amina/Ananka off. There are some good visual sequences in this sequel and the mummy is not fooled by the angry mob's trap. Ramsay Ames, as Amina/Ananka, is an attractive actress. The high priest again falls in love with the mummy's girl. How will it turn out this time around?
Byron Brubaker
Super Reviewer
The Mummy's Ghost Quotes
There are no approved quotes yet for this movie.