Muppet Treasure Island
(1996)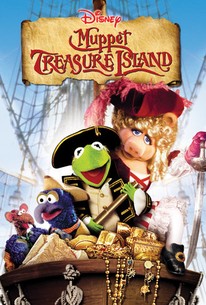 TOMATOMETER
AUDIENCE SCORE
Critic Consensus: Though less Muppet-centric than the original trilogy, Muppet Treasure Island is an energetic, cheerful take on Robert Louis Stevenson's classic adventure, with typically solid gags.
Muppet Treasure Island Photos
Movie Info
Robert Louis Stevenson's classic tale of a young orphan who becomes involved with pirate Long John Silver is given the Muppet treatment in this vibrant children's musical. As in The Muppet Christmas Carol, the film stays loyal to the original storyline but casts the well-known puppets in many of the supporting roles. Young Jim Hawkins remains human, as does Long John Silver, played by an amusingly exaggerated Tim Curry. However, Captain Smollet is played by the evergreen Kermit the Frog; Miss Piggy, Gonzo, and Rizzo the Rat serve as roving narrators; and numerous other Muppets assume smaller roles. The familiar adventure plot is enlivened by the Muppets' good-natured, winking sense of humor, and a number of anarchic musical numbers are reminiscent of the original Muppet Show. Long-time followers of the Muppets may find the film less fresh than Jim Henson's original creations, but the combination of old-fashioned storytelling, intriguing design, and clever humor will undoubtedly amuse younger audiences. ~ Judd Blaise, Rovi
Critic Reviews for Muppet Treasure Island
Audience Reviews for Muppet Treasure Island
After Jim Henson's tragic death in 1990, there was great concern about the future of the Jim Henson Company and the Muppets in particular. While the Henson family were determined to keep producing work to honour his memory, many wondered whether it would be possible to replicate the magic that he created. After the slow-burning success of The Muppet Christmas Carol¸ Muppet Treasure Island laid such fears to rest, and still provides a great deal of family fun after 17 years. Among the post-Jim efforts, Christmas Carol and Treasure Island have a large number of similarities. As well as being directed by the same man (Jim's eldest son Brian), they both feature greater interaction with human protagonists than the likes of The Muppets Take Manhattan or The Great Muppet Caper. Both are adaptations of classic works of English literature which play the material as straight as possible, considering who is performing it. And both involve substantial amounts of characters breaking the fourth wall to talk about how silly everything is. But despite being so technically similar, Muppet Treasure Island does manage to edge out over its festive counterpart. This may just be a reaction to the source material: there is less overt sentimentality in Robert Louis Stevenson's story, and the morality of Stevenson's work isn't presented through any kind of potentially awkward prism of social commentary. Ironically the more outwardly male and aggressive of the stories is the one which provides the most in terms of family entertainment, something for which Henson deserves a large amount of praise. When I reviewed Treasure Planet not so long ago, I talked about Disney's attempts to retain the basic elements of the story while putting it in an exciting new context. Treasure Planet functions perfectly wells as a transliteration of the story, getting the various plot points on screen in the right order with a couple of interesting twists in terms of presentation. But the film suffered from a conflict between the conventions of the story and those of the people making it, so that at times it couldn't decide how faithful or straight it wanted to play things. Muppet Treasure Island overcomes this by setting out its stall very early on. The Muppets' style is widely known and easy to recognise, so we have no trouble imagining the kind of tone Henson is aiming for. But more than that, all the familiar Muppet characters and elements that come along feel like they complement the story, rather than being shoehorned in for the sake of getting them on screen. Kermit is perfect for Captain Smollett, since the role panders to both his ineptitude and his place as the commander-in-chief of the Muppets. By instilling us with this kind of confidence so early, the film gradually puts its own stamp on the story through its character choices. Fozzie is a good choice for (the halfwit son of) Squire Trelawny; while he is perhaps more inept and eccentric than his literary counterpart, the idea of a small person living in his finger is a nice twist on his inability to keep a secret. Dr. Bunsen Honeydew is a shoe-in for Dr. Livesey, providing a cool head while Beaker gets to play up the madness of a given situation. Even Miss Piggy's characterisation makes sense, hypothesising just how mad Ben Gunn would have become after all those years alone. Changing the character into a love interest for Smollett may offend some purists, but it does provide for an awful lot of good comedy. In addition to the puppeteers and voice artists, the human actors are very well-cast. Kevin Bishop's singing is a little suspect at times, but he plays up the earnestness of Jim Hawkins very well, making him strongly principled but never unlikeable. Jennifer Saunders makes a welcome cameo as the Admiral Benbow's landlady, making the very most out of a slightly underwritten role. And Billy Connolly is truly in his element as Billy Bones, with the screenplay playing up to his outlandish qualities and Henson allowing him to go just over-the-top enough without mugging to the camera. Connolly would joke for years afterwards that he was the only person ever to die in a Muppet film, a happenstance that Rizzo openly acknowledges. Best of all, however, is the performance of Tim Curry as Long John Silver. Throughout his career Curry has always been at his best in roles which require him to be slightly cartoonish or larger-than-life. He has a great gift for acting 'big' without making the character in question simple, something which is evident here as much as it is in Rocky Horror. This makes him a perfect choice for Silver since he can revel in the darker, edgier moments while still being likeable, getting across Silver's conflicted nature as a character. The scene where he is given the black spot is proof of this, as he goes from genuine rage to play-acting and finally a mixture of the two. The songs in Muppet Treasure Island are also very good. 'Shiver My Timbers' sets the opening tone very nicely, giving us a forbidding mood counterpointed by the endearingly peculiar puppets. 'Sailing For Adventure' is a very solid sea shanty with a witty structure reminiscent of Gilbert and Sullivan. 'Cabin Fever' is pure chaotic fun which toys with the musical convention of characters randomly bursting into song. And 'Professional Pirate' is insanely catchy, with Curry in fine form on lead vocals and a set of lyrics which capture the moral ambiguity of the pirates. The incidental music is also good, being the result of an unusual collaboration between Hans Zimmer and Harry Gregson-Williams. We now come on to the issue of self-awareness in children's films. This is a thorny issue for many film fans, who point to the post-Shrek wave of films which feel the need to include grown-up humour in stories that are meant for children. While Dreamworks is mainly held to task for this (and often deservedly so), perhaps the biggest culprit in recent memory is Fantastic Mr. Fox. Wes Anderson took Roald Dahl's much-loved story and threw in so many unnecessary, grown-up details that it became less of a children's film than a Wes Anderson film in children's clothing. The acid test for determining whether such decisions are justified is to look at the intentions behind the self-referential humour. Anderson and Dreamworks use it as both an excuse to show off and as an insurance policy: it allows them to keep repeating how sophisticated they are, while ensuring that adults without children will take an interest in their work. Muppet Treasure Island, on the other hand, uses it to poke fun at its own absurdities, and to compliment the audience's intelligence. While some details may escape very young viewers, it's hard not to chuckle when Silver shouts "Upstage lads! This is my only number!" in the middle of his one and only song. There's even a joke at Disney's expense, which comes from Polly the lobster before he is swiftly knocked off his perch. On top of all this, Muppet Treasure Island looks really good. Like Christmas Carol, the film is technically adept in situating its human and Muppet characters in the same scenes; it's really hard to see the joins, and most of the time you won't want to. The film is shot by John Fenner, who worked on both Christmas Carol and The Storyteller TV series. He is in his element lighting ornate period clothing, making this feel like a bright and adept Treasure Island film that just happens to feature the Muppets. There are a couple of problems with Muppet Treasure Island. Not all of its jokes hit the mark, particularly in the big introduction on the Hispaniola or the scenes down in the cells. More problematic is the pacing: the film often spends too long on certain scenes and slows down when it should be barrelling forward towards its climax. As entertaining as Miss Piggy is, in pretty much any context, the film loses a lot of momentum during her elaborate entrance, and it takes a long time for things to get back on track. Muppet Treasure Island is a really fun film which edges out over Christmas Carol as the finest of the post-Jim Henson films (before the recent reboot). The story is treated with a perfect combination of intelligence and irreverence, resulting in a proper family film with a lot of great jokes, a good dose of adventure and some really memorable characters. Above all it's an example of how to adapt classic stories for children, containing all the magic of the original story and a good deal more besides.
Daniel Mumby
Super Reviewer
A fabulous Muppet spoof of pirate movies, it's fun for all ages. This is an hilarious musical comedy. And it stars Tim Curry as Long John Silver! Finally we get to see him play a singing pirate. I love this movie, and I highly recommend it.
Great songs, great acting, a great performance by Tim Curry, and great comedy
Michael Edwards
Super Reviewer
Muppet Treasure Island Quotes
| | |
| --- | --- |
| Figurehead (Statler): | Well, it could be worse; we could be stuck in the audience. |
| | |
| --- | --- |
| Long John Silver: | Look at us, Jim. We're a festival of conviviality. |