Muppets From Space
(1999)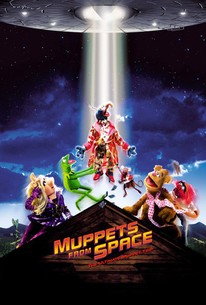 TOMATOMETER
AUDIENCE SCORE
Critic Consensus: If Muppets from Space lacks the magic and wit of its cinematic predecessors, this pleasingly silly space romp is funny and clever enough to make for better-than-average family entertainment.
Muppets From Space Videos
Muppets From Space Photos
Movie Info
At long last, the secret of just what the Great Gonzo happens to be is revealed! As Gonzo and his friend Rizzo hit the road in search of their roots, Gonzo makes a shocking discovery: his parents are actually space aliens from another galaxy. After announcing this startling news on Miss Piggy's talk show (hey, if Ricki Lake and Rosie O'Donnell can do it, why not Miss Piggy?), Gonzo finds himself the subject of a dark and mysterious government conspiracy, led by the nefarious K. Edgar Singer (Jeffrey Tambor). In time, Gonzo is forced to choose: should he hop on board the UFO and sail off to live with his family, or stay on Earth with the friends he knows and loves? Muppets From Space once again pairs the late Jim Henson's creations with a stellar cast of human beings, including F. Murray Abraham, David Arquette, Ray Liotta, and Andie MacDowell. ~ Mark Deming, Rovi
News & Interviews for Muppets From Space
Critic Reviews for Muppets From Space
Audience Reviews for Muppets From Space
Though not being a personal fan favorite by many fans of the Muppets, I think it deserves more recognition than it has gotten. It delves into the past of my personal favorite Muppet, Gonzo, and the film is very creative, and of course very funny. Jeffrey Tambor does a great job as the villain agent who kidnaps Gonzo, and he comes off as being both a funny character, and a ruthless and horrible character. Also this is probably the Muppet movie that I quote the most, because a lot of the film's dialogue is so quotable and very funny, and to me it is the funniest of the Muppet films, but funniest doesn't mean it is my favorite.
Michael Edwards
Super Reviewer
A case of the last good flick before the franchise lost its way, this is more fun Muppet mayhem but starting to lose their nack. The beginning sequence as all the Muppets wake up and have a good sing song is brilliant, show stopper for sure. Other nice moments include the 'Undercover Agency' with main baddie Jeff Tambor and his big dumb assistant 'Bobo the Bear' both of which are good for a laugh. Lots of cameos, most of which aren't really needed I guess but as time progresses it seems the Muppets tend to rely on more big cameos as an attraction. I guess the plot for this is a little weak really, that's the problem, 'Gonzo' is a great Muppet but maybe we didn't need to see where he comes from and the fact he's an alien doesn't really fit for me, oh well. This Muppet film just about holds my interest and just about delivers a decent addition to the Henson list. The laughs are OK and it looks reasonable if a little drab. For me they really should stick to adapting classic tales like they did with 'Treasure Island' and 'Christmas Carol'. There is also a lack of various other classic Muppets in this film, dunno why they decided to stick with just seven odd characters, guess that's why we have the big opening number to cover that eh. Oh, dont forget 'Pepe' dressing in his tutu, classic :)
Phil Hubbs
Super Reviewer
No, no, no... We didn't need or want to know that Gonzo is an alien. I love Gonzo, but I love him as the weirdo of the group, the one who doesn't belong, many of us identify with that. This movie says, oh guess what, Gonzo isn't weird at all, he belongs somewhere, and if you identified with him before you were wrong about him. It made me really mad. This is the worst Muppets movie I've seen. Plus, it goes for all the stupid jokes that are supposed to make preteen boys laugh and no one else.
Muppets From Space Quotes
| | |
| --- | --- |
| General Luft: | I hired you to get me an alien, and you give me doctored photos and spirals? You are on thin ice boy. |
| | |
| --- | --- |
| Fozzie Bear: | Should we just ask permission from those nice men with the rifles? |
| | |
| --- | --- |
| Sam Eagle: | There are no aliens here, only good old-fashioned, hard-working Americans, now get off my Kentucky blue-grass. |
| | |
| --- | --- |
| Additional Performer: | Pepe: You do that again I will slap you, I will slap you like a bad bad donkey, okay? |
| Additional Performer: | You do that again I will slap you, I will slap you like a bad bad donkey, okay? |