The Muppets Take Manhattan
(1984)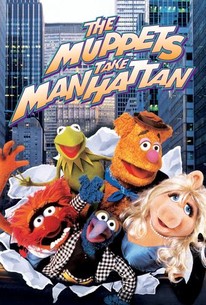 AUDIENCE SCORE
Critic Consensus: If it's not quite as sharp as The Muppet Movie, The Muppets Take Manhattan is still a smart, delightfully old-fashioned tale that follows the formula established by the first two movies -- a madcap adventure assisted by a huge group of human stars.
The Muppets Take Manhattan Photos
Movie Info
Jim Henson's Muppets find themselves in Manhattan yearning to get a musical on Broadway in this charming film that also chides show business and its foibles. Kermit the Frog has just put together a successful variety show at Danhurst college (probably somewhere between Amherst and Dartmouth), and although he would like to mount it on Broadway so he would have a hit and be able to marry Miss Piggy, he cannot find backers. The Muppets are then forced to take jobs to support themselves, and it is while working as a waiter that Kermit meets the friendly Jennie (Juliana Donald). Jennie is the daughter of the owner of the restaurant and a source of great jealousy for Miss Piggy, who does not like competition. With stunning musical numbers involving a hundred or so Muppets and on-scene locations in New York City, the film is impressive in its merging of technical achievements and acting. ~ Eleanor Mannikka, Rovi
Critic Reviews for The Muppets Take Manhattan
Audience Reviews for The Muppets Take Manhattan
The third Muppet movie and arguably the best location for a Muppet movie. Seriously is it just me or does Manhattan just feel like the exact spot where most Muppets would live, their home. Obviously the fictional street of [i]Sesame Street[/i] is located in Manhattan which leans towards the idea that Muppets perhaps come from that borough. But despite that, Muppets just feel right on the east coast. Anywho this time around the Muppets have graduated from college. During this time they have been putting on a popular show called [i]Manhattan Melodies[/i]. Upon receiving positive feedback and some advice, the gang decides to try their luck at getting their show on Broadway. Predictably at first the Muppets have no luck at all and are forced to break up and find work elsewhere. During this time Kermit continues to sell their show in an attempt at getting on Broadway. He gains help from a local diner owner and his daughter, along with Rizzo the Rat and his friends. Problems arise when Kermit is hit by a car, loses his memory, and then goes missing. The Muppets are summoned back to Manhattan to help find Kermit; time now being of the essence because in the meantime their show has been picked up. So once again (it has to be said) we have another Muppet movie with a somewhat lackluster plot. Yes I know these movies are essentially for kids. Yes I know its a Muppet movie and the emphasis is more on sight gags, pratfalls, musical numbers, and just the look of the Muppets themselves. But this story isn't really interesting, it holds no real excitement, it doesn't really engage you. I like that its grounded but dare I say a bit too grounded and pedestrian. Again I don't want to nitpick a Muppet movie too much...but these things just jumped out at me. For starters when the gang has no initial luck and Kermit throws a hissy fit, they all decide to just leave. This felt a bit odd to me, OK they need money, but no need to depart for entirely new locations across the USA! Also, was it me or did anyone else find Rowlf getting a job in a dog pound kinda weird? In this universe Muppets live alongside humans, so why would a human hire a Muppet dog to guard other Muppet dogs? Surely that's bound to lead to trouble. Also Gonzo gets a job at a circus or funfair and Piggy stays behind to secretly watch over Kermit (in case he gets his amphibia leg over). Both of which were way too predictable. Having Piggy stay behind to covertly watch Kermit also gives us yet more romantic mush I'm afraid. It seems that every Muppet movie has to have multiple sequences of tiresome romance between the two. I mean sure that is the whole schtick between these characters and it can be funny at times but Jesus! Fortunately this does lead to a really good chase sequence where Piggy rollerskates after a mugger in Central Park (he pinches her purse). The sequence is well done utilising a stunt person within a Miss Piggy bodysuit with a fixed expression. Something that has been done before and works pretty well, from a distance. This movie is also notable for the first onscreen appearance of Muppets in baby form, [i]Muppet Babies[/i]. Yes there is a dream sequence within this movie where most of the Muppets are seen in a nursery frolicking around. The Muppets, the nursery, and the pastel colour scheme we see were all carried across into the cartoon (of the same name). It's literally a live action version of [i]Muppet Babies[/i] and it looks terrific. Whilst the small baby Muppets are adorable, the small animatronic baby Muppets were both adorable and visually excellent. Its sequences like this that prove how much more effective live action effects are. I think the problem with this third movie is the lack of real standout moments. There really isn't too much here that jumps out at you, other than the baby Muppets and the Central Park rollerskate sequence. Seeing Rizzo and friends cook in the diner kitchen was cute. Some nice remote controlled/wire puppet action with some clever visual trickery thrown in. Kermit being hit by a car and seeing him twitch on the tarmac was a legitimately disturbing sequence back in the day...aaand it still is today. And lastly I did like the frog advertisers Gill, Bill, and Jill. These guys felt very much like typical [i]Sesame Street[/i] characters to me with their rhyming names, identical looks, and speech pattern. Then of course you had the big finale where Kermit and Piggy finally get married. Something that you'd think would be an epic sequence living long in the memories of all who grew up with the picture, alas no. Although the sequence is pretty epic in scope with a good hundred plus Muppets on set, including [i]Sesame Street[/i] characters [b]and [/b] Uncle Travelling Matt from [i]Fraggle Rock[/i], it pails in comparison the first movies finale sequence. That's the problem really, it just kinda felt like they were trying to recapture that classic silver screen moment from the original movie which was bigger, more impressive, and is iconic. Following on from the classic original and wacky hijinks of the second was a hard act to follow. Heck, even the cameo roster wasn't very impressive for this one with many bigger stars pulling out. On the whole I wouldn't say this is a bad Muppet movie, it's just not a very memorable one. It has its moments which are fun and visually pleasing (what Muppet movie isn't visually pleasing??) but they are few and far between leaving the whole affair a tad muted.
Phil Hubbs
Super Reviewer
Lucas Martins
Super Reviewer
A great Creation from the mind of Jim Henson, with great songs, puppetry, plot, and acting. The only i didn't like was the random moment when kermit gets amnesia and i just thought it was useless for the movie
Michael Edwards
Super Reviewer
The Muppets Take Manhattan Quotes
There are no approved quotes yet for this movie.