Murder à la Mod
(1968)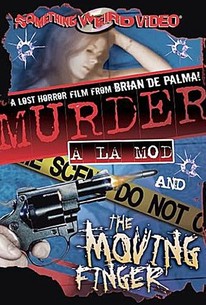 AUDIENCE SCORE
Critic Consensus: No consensus yet.
Movie Info
In this dark, but visually stimulating drama, a director of pornographic films begs his lover to help him raise the necessary cash to pay off his blackmailing wife. The lover does so by stealing her friends jewelry, but she ends up murdered. The rest of the story follows the investigation of the death.
Critic Reviews for Murder à la Mod
Audience Reviews for Murder à la Mod
If you found "Hi, Mom!" and "Greetings" unexpectedly delightful, don't expect to draw similar joys from this even-earlier Brian DePalma film. This tale of a psychotic killer has a decent script, but terrible acting and a tiny budget are too much to overcome. Pretty Karen (Margo Norton) is a dim free spirit whose filmmaker boyfriend Christopher (Jared Martin) is completing a sleazy movie for the paycheck. He needs money to get a divorce from his wife. Karen steals to help him, but obviously has forgotten what happened to thief Marion Crane in "Psycho." Other central players are Karen's rich friend Tracy (Andra Akers), producer Wiley (Ken Burrows, who also produced this movie -- we can tell he has money because he stereotypically chomps a cigar) and the freakish Otto (William Finley, later the star of "Phantom of the Paradise"). Finley's ridiculous mugging -- he doesn't speak, and only communicates through internal ravings presented as narration -- makes "Murder a la Mod" seem a lot more amateurish than it is. Though even Finley isn't the worst actor -- a scene with a bitter bank clerk brings the film to a screeching halt. "Murder a la Mod" is most interesting for its experimental New Wave touches. It opens with the auditions of two other actresses (one is Jennifer Salt) seeking the lead part -- an ironic inclusion, considering that Norton is one of the cast's weak links. Further tricks include aggressive use of fast motion (rather tacky), jump cuts, silly captioning and, most importantly, an extended stretch of reverse-time storytelling that might as well have inspired Christopher Nolan's "Following" and "Memento." To be frank, the action is deadly dull until this backward structure emerges in the second half. At least the music is entertaining -- the score is full of playful, honking woodwinds and Finley adds a hilariously campy title song. The voice of the Firesign Theatre's Phil Proctor cameos during a briefly heard radio broadcast.
Eric Broome
Super Reviewer
Murder à la Mod Quotes
There are no approved quotes yet for this movie.