Murder, My Sweet
(1944)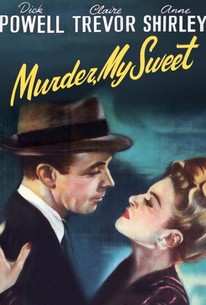 Movie Info
Murder, My Sweet is a nearly perfect film. Long considered one of the quintessential film noir, this tough, sardonic, and unusually witty film features hard-boiled detective Philip Marlowe (Dick Powell) hired by ex-con Moose Malloy (Mike Mazurki) to find his missing girlfriend Velma. Shortly thereafter, Marlowe is hired by socialite Mrs. Grayle (Claire Trevor) to find a valuable jade necklace that has been stolen from her. Marlowe finds the necklace and also finds blackmail, double crosses, corruption, and murder on both sides of the tracks. This film made almost washed up song-and-dance man, Dick Powell a star, and his portrayal of Marlowe is at least the equal of Humphrey Bogart's role in The Big Sleep. Director Edward Dmytryk creates a truly bleak and disorienting netherworld populated by a variety of sordid characters, including Mike Mazurki at his best. Claire Trevor is superlative in a difficult role and gives an unequaled performance as the most evil of femme fatales.
Critic Reviews for Murder, My Sweet
Audience Reviews for Murder, My Sweet
½
A private eye is hired by an ex-con to find his old girlfriend but gets sidetracked when a man who hires him as a bodyguard is murdered for a precious jade necklace. Murder My Sweet is one of those Noirs that ticks ALL the boxes. I must admit that I prefer Bogart's more mercenary and intense Marlowe but Dick Powell's more jaunty approach still works, especially when teamed up with Claire Trevor's deliciously amoral femme fatale. The script stays faithful to Chandler's hard boiled dialogue and there are also some really nice directorial touches in the vein of Hitchcock, notably during the scenes when a drug addled Marlowe escapes from the clutches of an insidious doctor and the cinematography pretty much wrote the book for every Noir that followed. It takes a little concentration to keep track of all the balls Marlowe has to keep in the air, but it's a satisfying mystery that oozes classic style. Not in the same league as The Maltese Falcon or The Big Sleep, but one of the standards nevertheless.
½
A hard-nosed private detective named Philip Marlowe (Dick Powell) gets hired for a pair of seemingly disparate simple jobs only to find himself in the middle of murder and intrigue. One case involve finding the missing girlfriend of a big, giant gorilla named Moose (Mike Mazurki), who's been away in the joint only to come back and find her gone without a trace. Marlowe doubts the veracity of this relationship but tracks down the girl's former boss anyway (well, former boss' wife). The second job comes from a guy named Mariott (Douglas Walton) and involves accompanying him to a drop-off location with some money, in order to pick up a jade necklace that had been stolen from Mariott's lady friend. But who stole the necklace? For that matter, who owns it? Marlowe gets it from all sides, including a quack psychiatrist who administers hypodermic needles full of who-knows-what. Dick Powell may have been a strange choice for Philip Marlowe: most of his films up until that point had been song-and-dance numbers, and he was known more for romantic comedies than tough and grizzled detectives. Perhaps that's why his performance has an air of comedy behind the tough guy persona. Whatever the case, it's the John Paxton script and Edard Dmytryk direction that wring the pulp from the original Raymond Chandler novel. The plot is thick and complex, and I'm not even really sure if all the loose ends get wrapped up in the end, but I don't think that's the point. It's the strange case, the journey, the style that all add up to something dynamic and amazing.
Devon Bott
Super Reviewer
Who wouldn't want to see a film noir called Murder, My Sweet? That just sounds so cool. It really is a good movie, a bit confusing at first, but good in the end. If you like film noir, you'll like this movie.
Murder, My Sweet Quotes
| | |
| --- | --- |
| Philip Marlowe: | She was a charming middle-aged lady with a face like a bucket of mud |
| Philip Marlowe: | She was a charming middle-aged lady with a face like a bucket of mud. |