Murder of a Cat
(2014)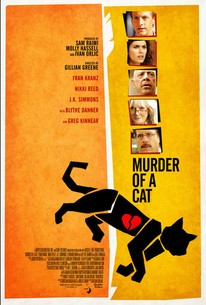 Movie Info
Clinton Moisey is an iconoclastic, artisan action-figure designer who still lives in his mom's basement, and is, by the standards of the world, a full-blown loser. But Clinton doesn't have time to care about what others think of him; he's too busy running a yard sale where he promotes his hardboiled detective toy line with his pet cat and best friend, "Mouser." When Clinton wakes up one morning to find Mouser impaled by a crossbow arrow, he is devastated. Realizing that the local Sheriff is only interested in flirting with his mom, Clinton sets off on his own to find out who killed Mouser and why. As Clinton delves deeper into the case, he encounters a free-spirited weed dealer and part-time hair stylist to the elderly, a squeaky-clean Korean store clerk with a dark side, and a local celebrity on the verge of a nervous breakdown, ultimately uncovering a town-wide conspiracy far greater than he ever imagined. The comedic film is a modern-day film noir set in the mundane world of the suburbs.
Critic Reviews for Murder of a Cat
Audience Reviews for Murder of a Cat
This is the third fucking time I've had to write this review, and this is the second time that I complain about how this fucking website needs a fucking 'Save Draft' option for the reviews you write. First time I was writing the review, I hadn't written a lot so it didn't bother me. I wrote more for the second review and now I'm just pissed off. I'm currently writing this review on Gmail, because at least Gmail saves drafts as you're composing an email. But I digress, if this review comes off angry, it's not the film's fault, it's the fact that I've had to write this for a third, and hopefully last, time. This isn't so much of a movie as much as it is a concept. It's a concept that seemed more suited to a short movie format instead of a full-length feature. The fact that the film is 100 minutes long isn't so much of a big deal to people who haven't seen the film. And I'm not saying the movie is long, I'm just saying that the pacing leaves a lot to be desired. There's long stretches of time where nothing really happens and there aren't any laughs. There are a couple of laughs here and there but, obviously, they cannot be called consistent or, honestly, even that funny. The movie does have a solid cast with JK Simmons, Blythe Danner, Greg Kinnear, Fran Kanz and Nikki Reed, but I just think the scripting of the film didn't properly utilize the talents of the cast. In the case of JK, Blythe and Greg, their inclusion felt more like a marketing ploy, just to have some known actors to make a little more appealing to people who, otherwise, would never give this film the time of the day. They're not really fully fleshed as characters, none of them are if we're gonna be honest, but Greg, JK and Blythe are clearly only here for their names and not necessarily because they were the best for the role. And I think all three actors are immensely talented, and they probably were the best choice for each role, but that's not why they were cast. They were there to be 'famous' as it were. And that's a shame, because I do think they're fairly good in their roles, even if there's not much to the characters. There's a larger conspiracy going on here and Mouser's death is just a small part of that. But the problem is the fact that the movie does a real shitty job at explaining just what's going on. Eventually you do figure it out and it's not due to anything the movie did. Even when they do reveal what's going on, it's never entirely sure what the reasoning behind everything was. It was poorly written. The movie isn't bad, or anything, it's got a decent enough cast and there are some laughs here. But the movie just doesn't add up to anything, whether due to it stretching its very thin script, poor storytelling and inconsistent comedy. This is nothing more than below average, so I really wouldn't recommend it in the slightest.
Jesse Ortega
Super Reviewer
Murder of a Cat Quotes
There are no approved quotes yet for this movie.