Murder on a Sunday Morning
(2001)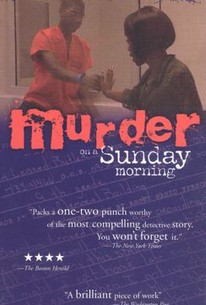 AUDIENCE SCORE
Critic Consensus: No consensus yet.
Murder on a Sunday Morning Photos
Movie Info
The genesis of this Oscar-winning documentary feature was one of the more appalling miscarriages of justice in recent American history. In May of 2000, Mary Ann Stephens, a 65-year-old tourist from Georgia, was shot and killed by a black assailant in Jacksonville, FL. Anxious not to damage their tourist trade, the Jacksonville police rushed out and picked up the first black "suspect" who happened to be available: 15-year-old Brendon Butler, who at the time of his arrest, was en route to a job interview. The grieving husband of of the murder victim, who had glimpsed the killer from a distance, was virtually coerced by the arresting officers into identifying Butler as the guilty party -- and later, thanks to the strong-arm tactics of his interrogators, and without benefit of counsel, the boy confessed to a crime which he did not commit. Brash, chain-smoking public defender Pat McGuinness, sensing that the prosecution's case stank to high heaven, proceeded to mount a courtroom defense for Butler which may well survive the decades as a textbook case of brilliant jurisprudence -- while the trial itself will undoubtedly forever serve as a cautionary example of the perils and pitfalls and prejudice of "swift justice." Assembled by French documentary filmmaker Jean-Xavier de Lestrade, this 111-minute feature was originally released under the title Un coupable ideal. As Murder on a Sunday Morning, the film was afforded a Los Angeles theatrical showing in September of 2001 to qualify for the Academy Awards; most Americans, however, saw the film when it aired on the HBO cable network on April 2, 2002.
Critic Reviews for Murder on a Sunday Morning
All Critics (3) | Fresh (2) | Rotten (1) | DVD (1)
This French documentary ranks with the best I have seen. . . . The strength of the film is its patient, chronological build-up.
December 1, 2003
a fascinating story held in a merely so-so package.
April 5, 2003 | Rating: 3.5/5
Audience Reviews for Murder on a Sunday Morning
An attorney defends an African-American fifteen-year-old accused of the murder of a white tourist. This documentary is pretty plain-Jane. There aren't many flashy edits or creative story-telling gimmicks. And that's appropriate because the film's subject is compelling on its own. Will the accused Brandon Butler be proven innocent? What are the racial implications of this case? What are Pat McGuinness's strategies throughout the trail? Overall, for students and critics of the American criminal justice system, this film is required viewing.
Jim Hunter
Super Reviewer
½
The title itself sounds so damn alluring. Add to it that it's an Oscar winning documentary depicting the trial of a 15 year old guy wrongly accused of murdering an old woman. His acquittal was an uphill task since the only witness (old woman's wise husband) in the case had positively identified him as the murderer. I'd almost forgotten about this movie until some days back. After that, I was way too desperate to check it out. Unfortunately, it wasn't anywhere nearly as interesting as I'd expected. No, I wasn't looking forward for a Sherlock Holmes or a Perry Mason kind of story, but something gotta give. This was......... some things are better left unsaid.
familiar stranger
Super Reviewer
Intriguing doc on the murder case of 15 yr old Brenton Butler, accused of murdering a tourist in Florida. A must see for fans of legal procedures.
Murder on a Sunday Morning Quotes
There are no approved quotes yet for this movie.