Murderball
(2005)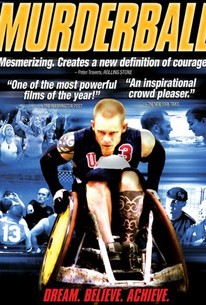 TOMATOMETER
AUDIENCE SCORE
Critic Consensus: An entertaining and gripping documentary that shows being confined to a wheelchair doesn't mean the fun has to end.
Movie Info
Like any other great sports story, 'Murderball' features fierce rivalry, stopwatch suspense, dazzling athletic prowess, larger-than-life personalities and triumph over daunting odds. But murderball, the original name for the full-contact sport now known as quad rugby, is played by quadriplegics in armored wheelchairs. 'Murderball' is a story like no other, told by men who see the world from a different angle. Quad rugby players have suffered injuries that have left them with limited function in all four limbs. Whether by car wreck, gunshot, fist fight, rogue bacteria or any of an endless list of possible misadventures, quad rugby's young men have found their lives dramatically altered. Watching them in action -- both on court and off -- smashes every stereotype one has ever had about the handicapped. It also redefines what it is to be a man, what it is to live a full life, and what it is to be a winner.
Critic Reviews for Murderball
Audience Reviews for Murderball
The U.S. and Canadian teams of quadriplegics compete in a rugby-like game called murderball in the paraolympics. The first impression of some of these people is not positive, but nonetheless interesting: they come off as testosterone-fueled assholes, but they're in wheelchairs, so all expectations of this being a feel-good Lifetime after-school special are shot to the moon the first time an paraolympian tells a story about threatening to kick the ass of a random bar patron. But as the film goes on, we get underneath the veneers of these players. There are a few vulnerabilities, but what they want more than your pity is your respect, your fear, and your recognition that their injuries do not threaten their masculinity. The film tries to fashion a sports story out of its subject, but it doesn't work. There isn't a lot of suspense in the games' outcomes. Overall, documentaries often open worlds that we never imagined existed, and what is true of those documentaries is doubly true of Murderball.
Jim Hunter
Super Reviewer
I am a sucker for films like these. It's almost impossible that I was not going to like "Murderball." Anything that involves sports and rage and physical disability and empowerment (empowerment in the awesome, beat-yo-ass way, not empowerment in the "encouraging dialogue" kind of way) is A-OK with me. Mark Zupan is an excellent choice of a hero, all outspoken and solid yet full of rage.
Jennifer Xu
Super Reviewer
½
This is a very interesting and memorable documentary blending sports, humanity, and living with being handicapped. These guys may be in wheelchairs, but they take they are badass, and take their brand of rugby, or rather, wheelchair rugby, very seriously. In fact, the film's title comes from the sport's nickname- that's how hardcore these guys are. They're not totally jerk jocks, though. These guys are also family men who just try to continue living life as normally as possible given the circumstances, and this film is just a nice little look into their lives as well as their sport. Good stuff all around. I highly recommend it.
Chris Weber
Super Reviewer
Murderball Quotes
There are no approved quotes yet for this movie.