Murderers' Row
(1966)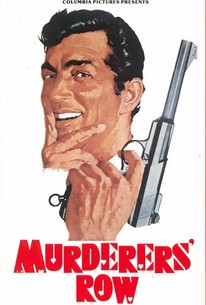 AUDIENCE SCORE
Critic Consensus: No consensus yet.
Movie Info
Dean Martin reprises his role as Matt Helm, famed secret agent who is part James Bond and part Rat Packer, in Murderer's Row. The film concerns the nefarious plan of arch-villain Julian Wall (Karl Malden) to take over the world by kidnapping Dr. Norman Solaris (Richard Eastham), who has invented a "helio-beam" -- a device that can harness the rays of the sun to destroy the earth. To insure his plans go smoothly, Wall has eliminated most of the ICE (Intelligence and Counter-Espionage) agents. But luckily for the world, super-agent Matt Helm, having escaped from being boiled to death in his own swimming pool, is hot on Wall's trail. Traveling to the Riviera, Helm meets Solaris's mod daughter Suzie (Ann-Margret) and they team up to rescue her father. Helm poses as a gunman on the run and Wall hires him. Wall becomes suspicious when Helm saves Suzie's life after she is threatened by one of Wall's goons, but Matt and Suzie escape from Wall and make their way to his island fortress, where they must find Solaris and disarm the "helio-beam" before Wall destroys Washington, D.C.
Critic Reviews for Murderers' Row
Audience Reviews for Murderers' Row
This second of four Matt Helm spy comedies may be an American film with a European flare, but it is more a basis for the Austin Powers franchise than any other 60s espionage adventure. Dean Martin sings a few songs on the soundtrack, which is a little disorienting as he appears on screen as a non-singing character. Martin's wise-cracking, womanizing, yet aging agent Matt Helm sets off on an impossibly zany case with flower child Suzie (Ann-Margret), the niece of a scientist who is being forced to serve a villain (Karl Malden) mad for world power. There is a definite generation gap expressed, yet this flick is so impossibly psychedelic and dated with cheesy effects and dialog that it is no wonder that James Bond is still remembered and Matt Helm has been filed away as a novelty.
Byron Brubaker
Super Reviewer
Murderers' Row Quotes
| | |
| --- | --- |
| MacDonald: | Put me down. You don't have time to sit around drinking you've got work to do. Yes, it's me. |
| Matt Helm: | Imagine doing that to a beautiful bottle of booze! |
| MacDonald: | I figured this was the surest way to get your orders to you. Contact Dominique immediately. Hotel du Juite, Avenue Saint Germain. |
| Matt Helm: | Oh shut up. I'll fix you boy - I'll join AA and you won't have anybody to talk to. |
| Matt Helm: | Oh shut up. I'll fix you boy. I'll join AA and you won't have anybody to talk to. |