Murders in the Rue Morgue
(1971)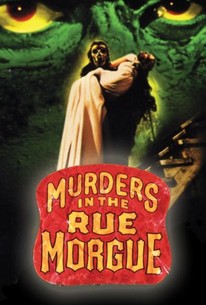 Murders in the Rue Morgue Photos
Movie Info
The 1971 Murders in the Rue Morgue has even less to do with the Edgar Allan Poe original than its 1932 and 1954 predecessors. The film is largely set in a Grand Guignol theatre, where entrepreneur Jason Robards Jr. stages a nightly horror play inspired by the Poe story. Robards' daughter Christine Kaufmann, the theater's star actress, is haunted by dreams of a gorilla swooping down to attack her. It is revealed that, as a child, Kaufmann was witness to the murder of her mother (Lilli Palmer) by Robards' ex-partner Herbert Lom. But was Lom the guilty party? You'll find out in Murders in the Rue Morgue's stylishly gory climax.
Critic Reviews for Murders in the Rue Morgue
Audience Reviews for Murders in the Rue Morgue
This supposed adaptation of the Edgar Allen Poe original story was released in 1971 and stars Jason Robards. Murders in the Rue Morgue is definitely not a straight adaptation of the original material. The only things I see present that I can remember from the original story are the presence of detectives and a large gorilla, but in this case the gorilla is a man in a suit. The story is about a theatre troupe that seems to be having bad luck when it comes to murder. One by one, they're picked off as Robards' daughter, played by Christine Kaufmann, continues to have strange dreams about the murderer as she sees a mysterious figure in cape, cowl and mask lurking about. Sounds a lot like Phantom of the Opera huh? In natural fact, it is, and not in a good way either. This movie is so appalingly stilted and boring, right down to Jason Robards' lifeless performance. He sounds like a broken record too, constantly repeating things like "This is impossible!" There isn't much good to say about the movie really, so I won't bother trying. I saw this on an MGM Double Feature DVD, and this was miles below the quality of the other film in that set.
Tim Salmons
Super Reviewer
½
Two very good actors, Jason Robards Jr and Lilli Palmer, are marooned in this subpar version of the Poe story. For the most part poorly adapted and acted as well as being badly dubbed this could most definitely be skipped.
Murders in the Rue Morgue Quotes
There are no approved quotes yet for this movie.