Muriel's Wedding
(1995)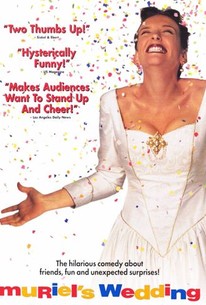 TOMATOMETER
AUDIENCE SCORE
Critic Consensus: Heartfelt and quirky, though at times broad, Muriel's Wedding mixes awkward comedy, oddball Australian characters, and a nostalgia-heavy soundtrack.
Movie Info
A socially inept young woman slowly learns to overcome her insecurities in this sleeper hit from Australia. The unconventional Muriel (Toni Collette) is deeply unsatisfied with her life, stuck in the nowhere town of Porpoise Spit and feeling rejected by her friends and family. Believing herself unattractive and worthless, she seeks meager solace in ABBA songs and fantasies of gorgeous weddings, with herself as the bride. Muriel's life takes a turn for the better, however, when she befriends the carefree Rhonda (Rachel Griffiths), who encourages her to take control of her life. Together, the two women travel to Sydney, where a series of liberating experiences help Muriel develop self-esteem and take the first steps towards maturity. ~ Judd Blaise, Rovi
News & Interviews for Muriel's Wedding
Critic Reviews for Muriel's Wedding
Audience Reviews for Muriel's Wedding
Seen this many times over the years and always loved it. This was the perfect role for Toni Collette. I don't think anyone else could have played the part so well. I was in my 20's when I first saw this and I related to Muriel so much with her self loathing and wanting to be more than she was (not so much the Abba and wedding obsession). The bitchy girl group were familiar and the hot air father. Think we've all met people like those characters. I can remember shedding a few tears in the cinema when I first saw it at a section where Muriel is especially down on herself. What I didn't quite get at the time was how tragic her mother was. Rewatching in my 40's, her character really stood out this time around. The despair and hopelessness of her life. Because she plays it understated and the other characters were larger, I missed it the first five or so times I saw it. Of course I always thought Bill was a pig and Diedre was... well, pretty much suited to him, honestly, and I always felt a bit sorry for poor Betty... but I didn't appreciate how checked out that poor woman actually was. This movie is quite an achievement. It's definitely a comedy, but it has so much else going on in it too. Really one of the better Australian movies.
Nicki Marie
Super Reviewer
½
Toni Collette plays a woman with a coupla niggling personal defects that're overblown by her own consciousness until she's nearly paralyzed: us. The piece charts her arc from her personal dreamland of ache into a reality that's dealable with serio-comic poetry, and ABBA provides the soundtrack. Pretty darn good. Rachel Griffiths (one of my favs) plays the buddy everyone would love to buddy with admirably.
Kevin M. Williams
Super Reviewer
A rocking chick flick with bouts of self-esteem issues, this Australian comedy features the original talents of Toni Colette and Rachel Griffiths. Colette's character of Muriel is not entirely original, as the derivation is of an awkward girl with fantasies of a fulfilled life alongside a man, depressed because she isn't the Barbie doll society calls her to be. Still, with an ABBA obsession and a penchant for getting into trouble with the police, Muriel is portrayed as a kooky and quirky aside to the usual dark portrayals that lead to disaster. Griffiths is already a self-fulfilled person, sex inclined and not dubious to the tall tales Muriel spins as she reinvents herself as Mariel, living in Sydney and burning bridges to her hometown of Porpoise Spit and the family that not only raised her, but ends up duped in her quest to find herself. The film grows dark, Muriel's family turning into a conflicted bunch on the brink of eruption, her wish fulfillment morphing into a life of joyless solitude, without intimacy or friendship. Though very bland on premise and plot, Muriel stills keeps some laughs rolling as well as the punches.
Spencer S.
Super Reviewer
Muriel's Wedding Quotes
| | |
| --- | --- |
| Betty Heslop: | you're terrible Muriel. |
| Betty Heslop: | You're terrible Muriel. |
| | |
| --- | --- |
| Bill Heslop: | You reap what you sow. You'd think I would have learned that growing up on a farm. |
| | |
| --- | --- |
| David VanArkle: | What kind of person marries someone they don't know? |
| Muriel: | You did. |
| David VanArkle: | I wanted to win. All my life, I wanted to win. |
| Muriel: | I do, too. |
| | |
| --- | --- |
| Muriel: | Why can't it be me? Why can't I be the one? |