Murmur of the Heart
(1971)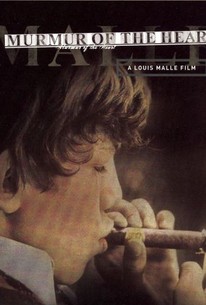 Murmur of the Heart Photos
Movie Info
Louis Malle's sensitive treatment of a youth's sexual initiation. Benoit Ferreux, Lea Massari. Father: Daniel Gelin. Marc: Marc Winocourt.
Critic Reviews for Murmur of the Heart
Audience Reviews for Murmur of the Heart
Everything about Le Souffle au Coeur felt familiar to me. Louis Malle managed to make a film that plays like a memory, like something you would remember from more than thirty years ago.
Late 1950s. Laurent belongs to a bourgeois family in Dijon. His mother is an Italian refugee, a sort of Sophia Loren, dazzling and free-spirited in love and motherhood. His father is a stern man, profession: gynecologist. Laurent loves jazz, particularly Charlie Parker, and literature, especially Albert Camus. His two older brothers are reckless, constantly annoying him -although within a certain complicity-. They introduce him to household mischief, tobacco, and girls, express radical political opinions at the dinner table, and seize every opportunity to get drunk.One day, Laurent falls sick with a "murmur in the heart" and has to go off to get a 'cure' in the country. There he must confront many issues that he can no longer ignore with the excuse of 'childhood', including sex, jealousy, and his atypical relationship with his own mother.
All of the performances are incredibly natural and accessible, and although some characters can be very annoying their credibility makes them wonderful. This is all thanks to the fine script, based loosely on some of Malle's personal experiences, like Au Revoir les Enfants. The film is written so consistently that even the most scandalous of conclusions happens in an unaggressive way, as though all along we'd been taught to comprehend. In the end I felt as if I had lived through the events myself and, in spite of its 2 hour run I never lost interest.
The art direction, music and cinematography envelop Le Souffle au Coeur in beautiful details and a golden light; there's always soaring jazz music, and no matter what is happening on the screen, there's a warmth and beauty and tenderness to it. And indeed the film takes on many uncomfortable subjects with great honesty; some of the content is actually very shocking and certainly taboo, even today. But as I mentioned, everything appears like a memory: something you can't change and can't help but look upon with understanding eyes. Not once is judgement passed or is a point of view betrayed. A real masterpiece of filmmaking, the perfect marriage of literary and visual narrative.
The father is a cold fish, the mother a passionate woman, and the three boys are largely uncontrolled and uncontrollable. Were french school boys really that loutish in 1954? For all of their bad behaviour, this was a captivating film. Interwoven with the comedy was a subtle political thread that offered a counterpoint to the main story line. Laurent is not sure what he wants, but knows that he is not content. The story moves slowly until what had to be a shocking ending when it was released, but seems cinematically tame by today's standards. And then it moves lightning fast. In the end, Laurent proves his manhood and is accepted into the company of men by his brothers and his father and with the quiet approval of his mother. Tender and sweet at times, it evokes a time and place unfamiliar to us, but is the better for it.
Mark Abell
Super Reviewer
Superb coming of age French film made in the 70's but set in the 50's, which focuses on an adolescent boy coming to terms with his sexuality and his relationships with his mother, father and brothers. Very tenderly directed, the film features stunning and unforced performances from Benoit Ferreux as lead character Laurent and Lea Massari as his mother. In other hands the subject matter could seem exploitative and unnecessarily controversial, but Louis Malle displays an assured light touch. The period detail is also very impressive and the warm cinematography is another plus. The Criterion DVD features a pristine transfer that makes the film look brand new, and comes with a very well written and informative essay by film critic Michael Sragow. A very fine film indeed.
Daniel Parsons
Super Reviewer
Murmur of the Heart Quotes
There are no approved quotes yet for this movie.