Murphy's Law
(1986)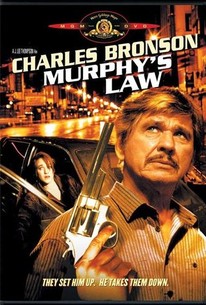 Movie Info
An officer of the law becomes a wanted man while trailing a killer in this crime drama. Jack Murphy (Charles Bronson) is a police detective who helped to put Joan Freeman (Carrie Snodgress), a psychotic murderer, behind bars ten years ago. However, Joan is now back on the street and determined to get revenge on Jack. She kills Jack's ex-wife and her new husband, and she cleverly frames the detective for the crime. Jack is arrested and taken into custody handcuffed to Arabella McGee (Kathleen Wilhoite), a rough-and-ready young hoodlum picked up for theft. Jack is able to escape, and has to track down Joan in order to clear his name with Arabella as his unwitting accomplice. Murphy's Law also features Lawrence Tierney and Richard Romanus.
Critic Reviews for Murphy's Law
Audience Reviews for Murphy's Law
½
Murphy's Law is a well crafted action film that stars Charles Bronson. The story is engaging and thrilling, and the acting is quite good. If you enjoy Bronson films, then this is the film for you. Murphy's Law is high octane excitement from start to finish, and director, who has work with Charles Bronson on other films, crafts this picture with flair and intensity. Featuring intense action, and pure Bronson carnage, Murphy's Law is a great film and a definite genre classic. Of course it's imperfect in some areas, but that's to be expected from low budget actioners such as this. Despite its flaws, it's a highly entertaining film worth seeing if you enjoy these films. This is a well structured movie that boasts good performances, effective action sequences and memorable, tense moments. Murphy's Law is not original, but it more than makes up for it with Charles Bronson in the lead role. The cat and mouse game works due to a good script and like I said is nothing new, but it doesn't really matter because Murphy's Law is an action packed ride that will satisfy any viewers looking for an effective action film. These low budget action flicks are always fun and with Bronson in the lead you're assured a standout feature that delivers the thrills from one of Hollywood's greatest tough guys. Murphy's Law borrows from Dirty Harry, but the film manages to be quite different. Murphy's Law is one of those action films that you simply need to shut your mind off to enjoy. Those looking for popcorn action thrills will certainly this. However for those expecting something more, you'll be disappointed. This is a Bronson flick, and with being said, you can expect the typical formula that comes with it, good story, tense, thrilling brutal action, and memorable on-screen bad ass moments that makes Bronson such an icon. Despite its flaws, Murphy's Law is worth seeing, and I find it to be underrated. Like I said, it's a classic action flick in Bronson's filmography, and diehard fans of his work will love it like I did.
½
Bronson has to take out the trash, but this time it's female trash out to destroy his life. This nutbar (you have to be crazy to mess with Bronson) frames Chuck for some murders and he has to break out of jail with an unfunny, yet hillarious, female punk in tow. For some reason Bronson takes a shine to her, and finally confronts the psycho chick. I can't go on, I don't want to spoil who wins for those who haven't watched it, but I'll give you a hint. Bronson kicks ass!
Christopher Brown
Super Reviewer
Charles Bronson's a cop who is being framed by a psycho he once put away. Much shooting and shouting.
Dean McKenna
Super Reviewer
Murphy's Law Quotes
There are no approved quotes yet for this movie.