Muscle Beach Party
(1964)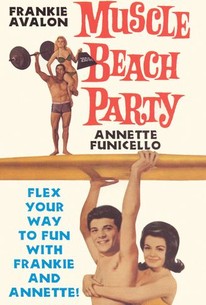 AUDIENCE SCORE
Critic Consensus: No consensus yet.
Movie Info
The Beach Party Gang meets a coterie of muscle-men who try to take over their spot on the beach in Muscle Beach Party. Surfing sensations Frankie (Frankie Avalon) and Dee Dee (Annette Funicello) have their security threatened when Flex Martian (Rock Stevens) and a collection of well-oiled weight-lifters invade their turf. While tensions heat up on the beach, wealthy contessa Julie (Luciana Paluzzi) arranges for her business manager S.Z. Matts (Buddy Hackett) to entice Flex into becoming the latest in her long line of boyfriends. Julie's feelings change when she meets Frankie, who, honored by Julie's amorous attentions, returns her affections, causing a rift not only between Dee Dee and himself, but a further collapse in relations between the surfers and the body-builders, which is assuaged only by the music of Dick Dale and the Del Tones and Little Stevie Wonder.
Critic Reviews for Muscle Beach Party
Audience Reviews for Muscle Beach Party
½
I remember watching all of these with my parents when I was younger. This is the second in the series. Now I find it totally awful! The only reason I gave it a star more than the worst rating possible is because of Buddy Hackett, Luciana to a lesser extent, and Little Stevie Wonder. Most of the characters, especially Don Rickles, were beyond annoying. At the opening of the movie Buddy Hackett appears to be a rich business magnate, but with his voice I just couldn't accept that. Then we find out he's an assistant to Luciana as a rich Italian Contessa, and that I can believe. I really think Buddy was the best thing about this movie! Actually I don't know why Frankie didn't go away with the Contessa instead of staying with Annette (Dee Dee). It was obvious Annette had heavy effects on her voice when she sang to make her voice bigger than it is, the audio was horribly dubbed for most of the group songs, and the Del Tones are lame. Little Stevie Wonder gives a great performance, but the camera isn't on him enough. So I recommend just watching the closing credits where Stevie performs again with early signs of his multi-instrumentalist talent, and Candy (the girl with magical powers in her hips) shakes away to the appropriate shattering conclusion.
Byron Brubaker
Super Reviewer
Muscle Beach Party Quotes
There are no approved quotes yet for this movie.