The Muse
(1999)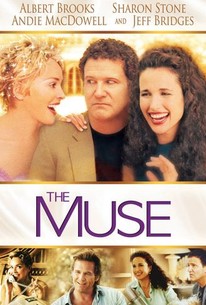 Movie Info
Actor/writer/director Albert Brooks turns his satiric gaze on the film industry in this comedy about a screenwriter who has hit a rough patch. Steven Philips (played by Brooks) has enjoyed a celebrated career in Hollywood, but one day he has a meeting with his agent, who informs him his career is suddenly going nowhere. Steven quickly finds himself at the end of his rope and is unable to put a decent sentence on paper. Desperate, he hears that there's a bona fide muse in Hollywood, Sarah (played by Sharon Stone), who might be able to help with his problems. The writer contacts Sarah, hoping a good, stong dose of inspiration will get his career back on track. However, Sarah's late hours and endless demands don't do much to help Steven's relationship with his wife (Andie MacDowell). The Muse features an original musical score by Elton John, and cameos by several notable film figures, including Martin Scorsese, Rob Reiner, and James Cameron.
News & Interviews for The Muse
Critic Reviews for The Muse
Audience Reviews for The Muse
½
Original neurotic comedy, Albert Brooks' The Muse it's not very funny, dispite being entretaining.
Lucas Martins
Super Reviewer
Albert Brooks tale of a Hollywood writer facing the end of his career is unintentionally ironic and kinda sad to watch. The help of major Tinseltown players do little to support a work wherein Brooks himself only comes across as bitter and alienating. Sharon Stone as the titular character: blech. Only Andie MacDowell escapes unscathed. Pass.
Kevin M. Williams
Super Reviewer
I normally like Albert Brooks's films. Obviously Broadcast News and Defending Your Life are fantastic, and in those films, his neurotic, Woody Allen demeanor is charming, clever, and funny. But here he's just annoying and occasionally he's almost creepily over-bearing. As a film, The Muse has a lot of wasted time spent on people driving in the "beautiful" plasticity of L.A. and banal dialogue like "You should call him." [Dramatic pause.] "I'll call him." A film exploring the writing process might have been more interesting, but like his character, I fear Brooks has lost his edge.
Jim Hunter
Super Reviewer
The Muse Quotes
There are no approved quotes yet for this movie.