Music of the Heart
(1999)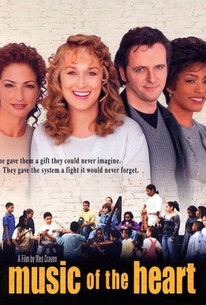 Music of the Heart Photos
Movie Info
When Roberta's husband left her for a family friend, she left the security of her small town and moved to East Harlem to give kids the hope, pride and power to make something of themselves with the most unlikely tool - fifty violins. After ten years of teaching, the school decided to cancel her funding. With the support of her friends and the community, she sets out to fight back.
News & Interviews for Music of the Heart
Critic Reviews for Music of the Heart
Audience Reviews for Music of the Heart
There is a lot of dramatic credibility attached to this film, which isn't warranted. Yes, Meryl Streep is the lead and she received an Oscar nomination for the role, but this film is less dramatic than much more soapy. This film falls into the sub-genre of "white woman saves inner city children" which also includes "Freedom Writers" and "Dangerous Minds," and overdone and quite manipulative genre that needs to be done away with. You will either find this true story enlightening and sweet hearted or overly dramatic, based on taste or being able to stomach racially motivated storylines. Though, in general, I find these kinds of films tedious and over the top, the last half hour did make me well up. Real life music teacher Roberta Guaspari is inspirational, and her story is at least treated with respect. It is also interesting to note this is the only film Wes Craven has directed that has nothing to do with horror or sci-fi, and for those unaware of his finesse, this is a great showcase of his talents. This is an entertaining film, if a little overdone in its execution.
Spencer S.
Super Reviewer
½
Inspiring true story with good acting and a compelling narrative. A nice change of pace from Wes Craven.
½
it wasn't bad, despite the fact how much i despise the cliched inner city kids can do sports/be intelligent/sing/spell/play an instrument despite GREAT ODDS and there's always a random kid dying or doing drugs or something. and meryl streep is great at playing angry women.
Jennifer Xu
Super Reviewer
Music of the Heart Quotes