Must Love Dogs
(2005)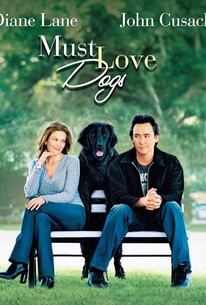 Movie Info
A woman finds herself drafted into the battle of finding the perfect man in this romantic comedy. Sarah Nolan (Diane Lane) is a kindergarten teacher in her mid-thirties who is still dealing with the emotional aftermath of her divorce eight months ago. While her sisters, Christine (Ali Hillis) and Carol (Elizabeth Perkins), both think Sarah needs to start dating again, Sarah herself isn't so sure. Carol decides to force the issue by posting Sarah's photo and profile on an Internet dating site, and soon a number of seemingly eligible bachelors are sending her e-mails in hopes of a date. However, nearly every man she meets turns out to be a loser, with the exception of Jake (John Cusack), who is smart, good looking, and even brings along a dog for their walk in the park (though he doesn't tell her the pooch was borrowed for the occasion). However, Sarah also makes the acquaintance of Bob (Dermot Mulroney), the divorced father of one of her students, and she finds herself having to choose between two potentially worthwhile men. Meanwhile, Sarah's widowed father, Bill (Christopher Plummer), decides to give Internet dating a try, and lands himself a new steady in Dolly (Stockard Channing). Must Love Dogs is based on the best-selling novel of the same title by Claire Cook.
News & Interviews for Must Love Dogs
Critic Reviews for Must Love Dogs
Audience Reviews for Must Love Dogs
Sweet story of true love :) I love John Cusack in this movie!!! :) So cute :) Just a great movie :) :) :) :)
Cassie Hill
Super Reviewer
Average film, with a few funny scenes. It's been a long time since I've watched this film and I only vaguely remember it. Shows how good it is... The funniest scene was most probably when he tried getting a condom. The only part that really had me laughing. Other than that, nothing brilliant.
Bethany Murphy
Super Reviewer
Average romantic comedy. I originally rated this only two stars, but five years on from first viewing, I am a little older and can relate a bit more to Diane Lane's depressed late 30's divorcee. Diane is obviously very attractive for her age, and I like John Cusack, but I have to say the main problem here is that they are not at all a convincing couple. She seems a little too conventional for him, and I never really bought them as an item at all. Any "aah" moments I had were gooing over the beautiful big dog. Probably not a great thing in a romantic film. There are a few laughs here, such as her answering her own father's personal add, and Stockard Channing is fantastic as Dolly, but it's not enough to make this a must see, Not bad for a weekend rental, but ultimately falls flat.
Nicki Marie
Super Reviewer