Mutant Chronicles
(2008)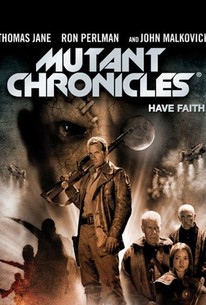 Movie Info
Steampunk aesthetics inform this story of a dystopic future in which humankind wages an explosive last stand against the demonic NecroMutants, who would see the entire human race brutally annihilated. Thomas Jane, Ron Perlman, Devon Aoki, and John Malkovich star in this effects-heavy sci-fi action thriller from director Simon Hunter (Dead of Night).
News & Interviews for Mutant Chronicles
Critic Reviews for Mutant Chronicles
Audience Reviews for Mutant Chronicles
½
If you are trying to imagine The Dirty Dozen going in a suicide mission against mutants set in a future that somehow resembles steampunk around the time of WW1, you already get a pretty good idea about this film. The look of it is very stylized, similar to Sin City there is hardly a frame in which anything but the actors actually exists. But while that worked great in SC it looks very artificial here, simply fort the fact that there probably was not as much money for special effects. The production design looks cool, maybe except for the rather silly mutants, but the cheesy effects just can't keep up with it. One has to wonder how the film then managed to gather such great names like Jane, Perlman or Malkovich. The premise and story is a bit silly but once our unlikely heroes go on their mission you can't help but be engaged in this. There is also plenty of action and a couple of exciting fights. The bumpy editing and camera work also remind you that this is not an A-league film sometimes. Overall, I'd call it dumb but still very entertaining. With more money to spend this could actually have been really awesome.
The darkest age is yet to come. Have faith. It was good but felt like it could have been done way better, still good story. I think the main characters should have been explain better in the history, where they come from especially. The special effects weren't that great either but decent."The Mutant Chronicles" is a stylish adventure with a dark cinematography that recalls "Dark City" and "Metropolis" and interesting concepts of war in the trenches (like in World War I) and riveted flying machines (burning coal, like the ships in the beginning of the Twentieth Century). In the end, "The Mutant Chronicles" is neither a masterpiece nor a bad movie. It's the year 2707. Earth's natural resources have been exhausted by mankind. Battle rages between the soldiers of four leading Corporations: the Capitol, Bauhaus, Mishima and Imperial. Mitch Hunter (Thomas Jane) and Nathan Rooker (Sean Pertwee), battle hardened Capitol soldiers, fight a desperate battle against a Bauhaus advance. When an errant shell destroys an ancient stone seal, they find themselves facing a new enemy: hideous necromutants, with boneblades that grow from their arms. Mitch barely manages to escape. Nathan does not. The mutants multiply by millions and they destroy all before them. The Corporations' leader, Constantine (John Malkovich), is about to abandon the planet and leave countless innocents to their desperate fate, when he is approached by Brother Samuel (Ron Perlman), leader of the Brotherhood, an ancient monastic order. Samuel is the keeper of the Chronicles, a book that prophesies both the rise of the Mutants, and of the 'Deliverer' that will destroy them. Samuel believes he is that Deliverer destined to journey deep into the earth and destroy the source of the mutant scourge. He manages to recruit Mitch, along with a handful of like-minded soldiers: Maximillian von Steiner (Benno Fürmann), honor bound Bauhaus officer; sword wielding Severian (Anna Walton); street fighter Cpl. Jesus 'El Jesus' de Barrera (Luis Echegaray); fearless beauty Valerie Duval (Devon Aoki); and stoic warrior Cpl. Juba Kim Wu (Tom Wu) . "Mutant Chronicle" follows Mitch and Samuel's mission to venture into the very heart of the darkness in an attempt to save the planet from marauding hordes of deathless mutants. They all will be dying as they plundge themselves into the "Hidden City", now crammed with mutants. Mitch Hunter will be the final hero: he will succeed in closing the seal forever more, but not without getting himself infected and having to use Brother Samuel's mutant-transformed body as a kind of tool.
½
Set 700 years in the future as humankind face extermination at the hands of sadistic mutants who have been unleashed from their underground dwelling. It's an odd but interesting and enjoyable film with lots of action and bloody carnage. Made on a fairly low-budget the film relies on clever use of CGI and minature work to achieve its futuristic setting, though it's quite obvious the movie doesn't have the same polish that other bigger budget CGI-fests have. It has its flaws no doubt, but this is still a damn entertaining action-horror that passes the time very well.
Mutant Chronicles Quotes
There are no approved quotes yet for this movie.