Mute
(2018)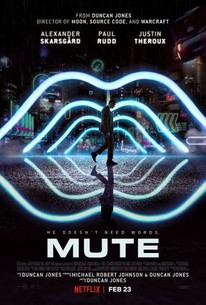 TOMATOMETER
AUDIENCE SCORE
Critic Consensus: Visually polished but narratively derivative and overall muddled, Mute is a would-be sci-fi epic whose title serves as an unfortunate guide to how it might be best enjoyed.
Movie Info
Berlin, the future, but close enough to feel familiar: In this loud, often brutal city, Leo (Alexander Skarsgård) - unable to speak from a childhood accident - searches for his missing girlfriend, the love of his life, his salvation, through dark streets, frenzied plazas, and the full spectrum of the cities shadow-dwellers. As he seeks answers, Leo finds himself mixed up with Cactus Bill (Paul Rudd) and Duck (Justin Theroux), a pair of irreverent US army surgeons on a mission all their own. This soulful sci-fi journey from filmmaker Duncan Jones ( Moon, Source Code, Warcraft) imagines a world of strange currencies in which echoes of love and humanity are still worth listening to.
Audience Reviews for Mute
"...Oh this is like Blade Runner but Blade Runner was better so that means this is bad".
½
This is a very visually interesting film but that is about the only positive thing I can say about this messy film. Jones has failed to deliver an interesting world building follow up to his debut film Moon. The biggest issue I had was with the characters, not one of them had any true complexity and you couldn't relate to any of their motivations. Rudd is the standout, in a rare villainous role and the layers his characters has are rather unexplored. The storyline is genuine mess of conflicting ideas, I fear Netflix bought into the concept without learning of the true nature of the script. Netflix are starting to produce or purchase a lot of films that are not critically acclaimed. This film has a few glimpses of the previous film Moon and they are more interesting then this entire film, I would much rather be watching a true sequel to Moon. This film attempts to be like Brazil with the quirky characters and world but sadly it fails on all fronts. I can only hope Jones can bounce back from this film and deliver something along the lines of Source Code or Moon. 10-03-2018.
Brendan O'Connor
Super Reviewer
Science fiction films are always tricky to pull off, but if you have a good story on your hands, everything weak could possibly fade away. That being said, one of Netflix's most recent releases in Mute is an example of a film with a great setting, great premise, and great characters, that still manages to fall flat on its face. I was looking forward to this movie since I first heard the logline a few months ago, and seeing that Duncan Jones was at the helm as director only excited me more. There are aspects of this film to admire and praise once the credits roll, but the overall execution and where the story ends up was very messy. Here's why I think you should completely avoid this movie, unless you're just looking to get a kick out of a visual world, regardless of quality. After an accident when he was a kid, Leo was left without a voice. Now a bartender with a girlfriend, he's faced with incredible odds when she goes missing. Determined to find her, he goes up against the city's gangsters and worst criminals. That premise alone is what got me hooked and wanting to watch this film on day one of release. That being said, the way this film plays out is one of the most disappointing viewings I've had in quite some time. Picture a film like Blade Runner setting up the amazing world that it does, but not really having a compelling story or anything really to say to its audience. That's how I felt when watching Mute. When a movie sets up a premise, it's pretty fair that audiences should be expecting for the movie to deliver on its payoff. Mute doesn't exactly accomplish that because it relies too much on the side characters and derails itself from its core storyline. I found myself wondering why so much focus was being put on Paul Rudd's portrayal of Cactus and Justin Theroux's Duck. Alexander Skarsgård has been cast in so many properties, but never truly given a chance to shine. Sadly, I think this is the best performance he's ever given, which is a huge shame, due to the fact that this movie doesn't do it justice in any way. Aside from the way this movie plays out, there are a few things to commend here. As I said, I thought Skarsgård was stellar here and it's always nice to see Rudd in a dramatic performance. In terms of setting up this world, I thought director Duncan Jones did a great job. There are some pretty memorable sequences sprinkled throughout Mute and even some of the visuals are decent, but it still doesn't amount to much when many of these aspects are also negatives. A great scene means nothing if your overall movie is lacking and solid visuals in certain moments are worthless if others feel like they're from the 1990s. Quite honestly, Mute is the definition of a movie that tries very hard and fails miserably in its execution. In the end, Mute is commendable for many reasons. Honestly, I felt the same way about this movie that I did toward Warcraft. Duncan Jones has proven himself to be a very talented director with his work on either Source Code or Moon, but his blockbuster debut in Warcraft set up a nice world but didn't expand on it enough to really create any intrigue. Mute suffers from those exact same issues, making Jones a very hit-or-miss director now. Upon first glance, I would've called him a director to really look out for, but it seems like he's really trying to go big or go home these days. Mute is fine for a few isolated moments, but as a whole, it's very, very weak.
Mute Quotes
There are no approved quotes yet for this movie.