Mute Witness
(1995)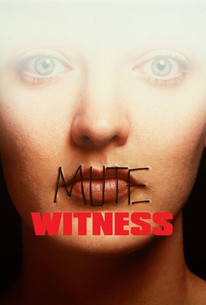 Movie Info
This British thriller takes many unusual twists and turns as it follows the perils of three young American filmmakers in Moscow. Billy, Karen, and Andy are making a low-budget suspense movie in Moscow. When Billy witnesses a murder, she must struggle to evade the Russian Mafia and stay alive.
Critic Reviews for Mute Witness
Audience Reviews for Mute Witness
Made a long, wide hallway chase look very scary. That cat-and-mouse and the sound of a murder victim screaming for the mute witness would fit well in your nightmares.
Adam Mahler
Super Reviewer
½
Billy Hughes is a mute young lady working for make-up on a cheap horror picture being filmed in Moscow by an American director. One night Billy gets locked in the movie studio. Later that night she hears that someone might be in the building and goes to check it out. That's when she stumbles across a woman being brutally murdered, while being filmed. After escaping the clutches of the murderers, Billy informs the authorities, only to be red-faced when the men show it was an act. Billy knows what she saw and soon her life is in turmoil again from underground figures that believe she has something of importance. I don't know how this heart-pounding sleeper passed me by, but I thought it was a much older flick. There's one thing though, it's got to be one of the most jarringly, and intense thrillers I've seen in quite a while. It's just a great suspense builder and mostly everything clicks into place! The first half of the feature is surprisingly gripping with taut sequences that have your heart in your throat and clouds us with an atmospherically foreboding environment of alienation. Underling this is a humorously wicked black streak. Faults do pop up in the story, as it does lose that furious grip it held so early and goofy humour (or better putter comic relief) between Fay Ripley and Evan Richard's characters is a hit and miss affair by being too forceful. In the long run, it probably could have done without. Despite some cringe moments, this aspect didn't hinder my enjoyment of it. For me, the soft ending they decided to go with just didn't feel right. The interestingly mysterious premise was eerie to the bone and packed some unsettling goods. So multi-facet was the context and its thrills, there was something fresh to how this all plays out and the nervy jolts and unbearable tension are weaved into a range of sudden plot turns and twists. Really, they made superb use of the novel idea of this disability and to handicap the situation, by staging it in a foreign place where not too many spoke English and so we are caught up in the confusion too. The delicate Marina Zudina gives a harrowing portrayal of the American mute girl Billy. The way she able to display the erratic emotions through her eyes and actions gave it some gruff and believability. Director Anthony Waller shoots the flick in a rather stylish, well-timed and skillful manner, without loosing that grimy look that eventuates from its rigid surroundings and a powerfully airy music score persistently nags at you. The only real name to make an appearance was small cameo part by Alec Guinness. The performances by the cast were all fine, especially the nail biting turns by Oleg Yankovsky and Igor Volkov as the Russian murderers. This riveting feature that's mostly made up of unknowns, is way better than your average dark thriller.
Cassandra Maples
Super Reviewer
This films a bit over 10 years old and they're remaking it! I can understand why, it's a great thriller with some really intense scenes and fun comedy that doesn't seem too out of place. One of the best "snuff film" films.
Christopher Brown
Super Reviewer
Mute Witness Quotes
There are no approved quotes yet for this movie.