My Beautiful Laundrette
(1985)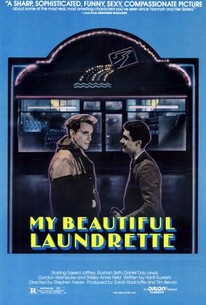 TOMATOMETER
AUDIENCE SCORE
Critic Consensus: My Beautiful Laundrette is fast and all over the place because it has so much to say, and show, including a highly watchable fresh-faced Daniel Day-Lewis.
My Beautiful Laundrette Photos
Movie Info
After the death of his wife and his subsequent descent into alcoholic near-agoraphobia, a crotchety Pakistani intellectual convinces his shady entrepreneur brother to provide work for his son in this multi-layered portrait of the immigrant experience in Great Britain. Young Londoner Omar (Gordon Warnecke) isn't sure what he wants out of life, but his uncle Nasser (Saeed Jaffrey) provides a corrupt, capitalist role model as Omar graduates from washing cars for the old crook to running his run-down laundromat. After a chance meeting with Johnny (Daniel Day-Lewis), an old school chum whose flirtation with fascism deeply wounded Omar's principled Papa (Roshan Seth), Omar hires the young thug to work for him. Soon, the pair begin a romantic relationship that remains as under wraps as the illicit drug-running and enforcement work they perform for Nasser's associate, Salim (Derrick Branche). On the domestic front, Omar must balance his knowledge of Nasser's long-running affair with posh Brit Rachel (Shirley Ann Field) with his own loyalty and attraction to Nasser's westernized daughter, Tania (Rita Wolf). After successfully transforming his laundrette into a vision of resplendent pastel suds and providing a bright spot in his otherwise squalid London neighborhood, Omar seems to have a bright future in Nasser's organization. The spectre of Johnny's past, however, combines with Omar's conflicted immigrant loyalties to threaten the sense of identity the young man has managed to stake out for himself. British-born, half-Pakistani playwright and novelist Hanif Kureishi won an Oscar nomination for his screenplay for My Beautiful Laundrette, which was originally filmed for BBC television. Kureishi collaborated again with director Stephen Frears on Sammy and Rosie Get Laid. ~ Brian J. Dillard, Rovi
Critic Reviews for My Beautiful Laundrette
Audience Reviews for My Beautiful Laundrette
I have seen this film on several "100 Best Films" lists (well, for sub-genres), but I just don't get it. Other than having progressive social messages, there's little that keeps the film from being a complete washout. The acting is not impressive -- and indeed, the main star (Warnecke) has an impenetrable, silly smile for no reason throughout the film, even when a smile is completely out of synch with what's going on around him. The cinematography, editing, sound and everything else technical sinks to the level of your typical 1980's "B movie". Even the opening credits are ineffective novelties, with titles spinning around like they're going down the drain with the rest of the movie. And the writing! Nothing is adequately explained other than the point that both Pakistani immigrants and blue collar street toughs perceive themselves to be disadvantaged by each other. Romances and sexuality issues come out of nowhere and subsequently disappear without even seeming to register on Warnecke's silly grin. I wouldn't recommend this movie to anyone other than film historians who care about its influence on 1980's British cinema because it sure ain't enjoyable otherwise.
Christian C
Super Reviewer
Within the context of film history, this film is surely important as a pioneer in discussion homosexuality in a straight-forward, even endorsing, manner. But I can't help noticing that the dialogue is stolid and expository. Additionally, the gay relationship is not adequately set up. We get no looks of longing or attraction between Omar and Johnny; they rather suddenly kiss. No matter the sexuality of the relationship, the audience needs some clue about the characters' objectives. With Warnecke's performance, it is almost impossible to tell anything about his character's emotional life because during much of his screen time he has a plastic, "I-smile-just-because" grin, which often belies the events going on around him. Finally, we get a lot of generalized complaints about "this country," and the anti-Pakistani sentiment is revealed, but is this only what the complaints refer to? I shouldn't have to ask this question. I think the biggest surprise about this film isn't the gay relationship but the fact that this was nominated for Best Screenplay.
Jim Hunter
Super Reviewer
Had to watch it for a film class. Might not have watched it otherwise.
Jennifer D
Super Reviewer
My Beautiful Laundrette Quotes