My Best Fiend (Mein liebster Feind - Klaus Kinski)
(1999)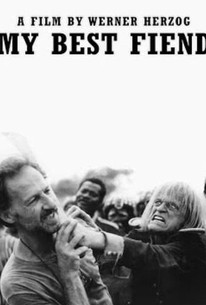 My Best Fiend (Mein liebster Feind - Klaus Kinski) Photos
Movie Info
To say the working relationship between director Werner Herzog and actor Klaus Kinski was often stormy strains the boundaries of understatement. Kinski's tirades against Herzog are the stuff of legend -- Kinski's scabrous autobiography All I Need is Love features a number of venomous rants against the director far too foul to recount here, while Herzog had to threaten Kinski with murder to get him to complete his work on Aguirre, The Wrath Of God. However, the collaboration between these two men, no matter how combative, resulted in the finest, most memorable work of either's career, including Aguirre, Nosferatu, Woyzeck and Fitzcarraldo, before Kinski's death in 1991 ended the partnership. Mein Leibster Feind/My Best Fiend is a documentary by Herzog about his work with Kinski, and portrays the actor with a large degree of affection while making no secret of his volatile nature (an actor displays a scar on his head from a wound Kinski inflicted with a sword, while an outtake from Fitzcarraldo shows him terrorizing a member of the crew). Despite their remarkable differences, Herzog sums up their working relationship with admirable conclusion: "We complemented one another. I needed him and he needed me." Mein Leibster Feind/My Best Fiend was produced for European television, though it did receive a screening (out of competition) at the 1999 Cannes Film Festival.
Critic Reviews for My Best Fiend (Mein liebster Feind - Klaus Kinski)
Audience Reviews for My Best Fiend (Mein liebster Feind - Klaus Kinski)
In this very unusual documentary filmmaker Werner Herzog revisits the Peruvian jungle and other locations throughout Europe, where he filmed movies with his long-time protagonist Klaus Kinski. Throughout this journey that mostly consist of interviews with fellow companions and Herzog's unbelievably funny anecdotes about the love-hate relationship with the egomaniac actor. While all that's filmed and presented really calmly and may sound boring for many, it is still full of humor and very interesting insights both into film making and Kinski's personality. There is also some original footage of his tantrums, which is clearly the highlight of this film. The fact that there was more to Kinksi than met the superficial eye is the surprise of this film. And the final scene with the butterfly is so incredibly sweet and beautiful, you actually feel maybe he wasn't such an asshole after all.
½
Kinski is even more insane that you've heard.
Ken Stachnik
Super Reviewer
L O L what a prick~ i need to watch fitzcarraldo again
Stella Dallas
Super Reviewer
My Best Fiend (Mein liebster Feind - Klaus Kinski) Quotes
There are no approved quotes yet for this movie.