My Best Friend Is a Vampire
(1988)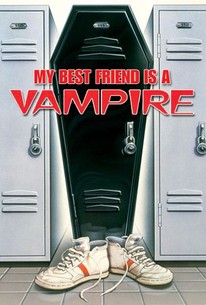 AUDIENCE SCORE
Critic Consensus: No consensus yet.
My Best Friend Is a Vampire Photos
Movie Info
This '80s teen comedy involves a youth (Robert Leonard), who is seduced by a sexy schoolgirl and then transforms into a blood-sucking vampire. Instead of fighting his affliction, he tries to cope with the change.
News & Interviews for My Best Friend Is a Vampire
Critic Reviews for My Best Friend Is a Vampire
Audience Reviews for My Best Friend Is a Vampire
Horror comedies tend to be hard to pull off, finding the right amount of horror and comedic elements to make the film work can be tricky, but My Best Friend is a Vampire manages to pull off both elements quite well, and the result is An entertaining feature that boasts a good cast, with an entertaining story and whimsical performances that make this film standout among other such horror comedies. Like Fright Night, the film uses vampires in order to create the horror aspect, but the filmmakers add some fun, entertaining and worthwhile aspects to the script to make this a thoroughly engaging film experience. I really enjoyed the film and this film is well worth seeing if you enjoy the genre. My Best Friend is a Vampire is a well thought out affair, one that should be cherished by genre fans. If you enjoy vampire films with good comedic elements, then this is well worth your time. My Best Friend is a Vampire works quite well as a film that manages to bring horror and comedy into one film, and it's a film that is well worth seeing if you enjoy the genre. Ian terms of vampire films, this is an overlooked film, one that deserves to be seen again due to its interesting idea and comedic elements. My Best Friend is a Vampire is a fun film, one that will surely be appreciated by genre fans due to its comedic content, and original spin on the classic vampire formula. The result works quite well, and this is a fun, entertaining film well worth your time.
½
This isn't the best of the teen vampire movies of the 80s or anything, but personally I loved it, it's fun, exciting, and funny. It's the perfect 80s entertainment, plus it's a vampire movie, so enjoy it.
I have such a soft spot for this movie - it's part of my childhood. It's kind of funny how my young mind glossed over all the sexual elements and focussed entirely on the comedy and vampire bits. Come to think of it, 12-year-old me did that quite a bit. Anyway, this movie is just delightful, but you need to suspend your disbelief with fifty-pound-test fishing line. This movie asks you to accept some pretty zany things, and some pretty wall-banging knots in the plot. Do the police just give out scanners so that American households can plot thier routes to school? Why does Nora turn into a cat while all the other vampires turn into wolves? But no, not bats though. That would just be silly. And why don't the cops in this town do anything when a teenager tells them that he just witnessed his friend being abducted by two middle-aged men in a white van? *sigh* What makes this movie so endearing is the comedy and the characters. Robert Sean Leonard is really really likeable as Jeremy Capello and Evan Mirand was hilarious as his best friend, who serves as the comic relief. Actually, one of the things I found funniest was seeing Ralph interact with Grimsdyke, Professor McCarthy's doofus of a sidekick. The two have confused which of the two kids is the vampire and spent the movie hunting (and confusing) Ralph. I was surprised in hindsight at how much of this movie is devoted to car chases.
Emily Armstrong
Super Reviewer
My Best Friend Is a Vampire Quotes
| | |
| --- | --- |
| Prof. McCarthy: | 'Maybe he's a Jewish vampire?' |
| Prof. McCarthy: | Maybe he's a Jewish vampire? |