My Best Friend's Wedding
(1997)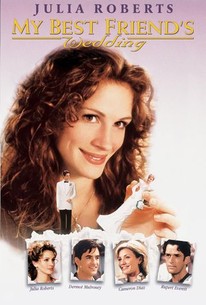 TOMATOMETER
AUDIENCE SCORE
Critic Consensus: Thanks to a charming performance from Julia Roberts and a subversive spin on the genre, My Best Friend's Wedding is a refreshingly entertaining romantic comedy.
My Best Friend's Wedding Videos
My Best Friend's Wedding Photos
Movie Info
Essentially an old-fashioned romantic comedy with a few dark twists, My Best Friend's Wedding marks the return of Julia Roberts to the genre. She plays Julianne Potter, a writer of culinary guides. As her 28th birthday draws near, Julianne eagerly anticipates a proposal from her handsome former college buddy Michael O'Neal (Dermot Mulroney). The best of friends during those years (though Julianne has always secretly loved him), they vowed that if both were still single at age 28, they would marry each other. She is justifiably excited when the phone rings and it is Michael; but her joy quickly turns to shock when he obliviously invites her to Chicago to attend his wedding to innocent, sweet-natured heiress Kimmy Wallace (Cameron Diaz). Enraged, the jealous and hurt Julianne visits her buddy and editor George (Rupert Everett) and to him vows to stop at nothing to win Michael back. At first what follows is standard-issue screwball comedy. Julianne enacts a plot to turn Michael away from Kimmy and the plot backfires making the heiress look even better to her besotted fiance. After several failed attempts, the tale turns blacker as Julianne becomes almost insanely desperate and begins doing things that are less cute than awful to her romantic rival. Meanwhile, George remains the one voice of sanity, sort of a Greek chorus, for Julianne. As the tale progresses, each of the protagonists is led to the point where they must examine their true motives, behavior and emotions, thus adding a depth not usually found in this type of story.
News & Interviews for My Best Friend's Wedding
Critic Reviews for My Best Friend's Wedding
Audience Reviews for My Best Friend's Wedding
Every 10 years or so, seems like a good idea to rewatch this one. Not entirely sure why. Julia Roberts's character is horrible. No one in their right mind would be hoping she gets to steal Kimmy's (Cameron Diaz - perfect for this part) fiancee. I think this might actually be my final viewing, though. I never really gelled with Julia Roberts as a chick flick actress (though I don't dislike her and have enjoyed her in dramas). This movie feels too implausible and the gay best friend - it feels like a second rate Will & Grace minus the laughs. The singing scenes, the opening, meh. Then too much focus on Roberts at the end. Kimmy was the only one I truly liked here. Diaz can hold her own in a chick flick, but she's secondary here. I would rather watch one of her movies. Original 3 star rating holds.
Nicki Marie
Super Reviewer
A comedy about finding your heart and losing your head. Saw it again! Great Film! As usual, Julia Roberts' acting was great. Cameron Diaz was charismatic. The story is funny and its something that you can relate to and learn from, like to learn how to let go of someone. This is a romantic comedy and if you are not into this kind of movies then don't watch this. I really think that this movie is great because it is realistic. Try to put yourself in Julianne Potter's shoes and see if you can handle it. I recommend this movie to Julia Roberts fans!! This is probably one of her best films!! A woman who, by a promise made years earlier, is supposed to marry her best friend in three weeks, even though she doesn't want to. When she finds out that he's marrying someone else, she becomes jealous and tries to break off the wedding.
½
What's interesting here is that Roberts, the ex-girlfriend (at the wedding only to break it up), is someone smart, charming and "totally above such drama". We find out as she does (ala the screwball comedies of old) just how far she'll go to achieve her will ... and she's supposedly "not like that at all". Maybe she's driven to it as this is one of those films where folks break out into popular song whenever and so one can sympathize with her temporary insanity in this funny crowd pleaser from the good ol'days of 1997.
Kevin M. Williams
Super Reviewer
My Best Friend's Wedding Quotes