My Bloody Valentine
(1981)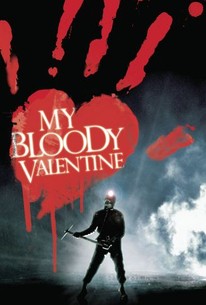 My Bloody Valentine Videos
My Bloody Valentine Photos
Movie Info
This Canadian slasher film features a disgruntled miner cutting out people's hearts with a pick-axe. Most of the film takes place in the mine itself, where partying teens are pursued by the maniac in some surprisingly well-directed chase and stalking sequences.
News & Interviews for My Bloody Valentine
Critic Reviews for My Bloody Valentine
Audience Reviews for My Bloody Valentine
Normally an overabundance of Dutch angles would reignite queasy memories of Battlefield Earth and its tilted ignominy but when they are in a mine that culminates with a supposedly erotic sex scene, they can be easily forgiven. However, the romp is truncated short when the blonde bombshell is impaled on an axe and the footage switches to a grainy, non-MPAA-approve chest chasm. Clearly, the film was a victim of puritanical censorship upon release and it is obvious whenever the killer strikes. Certainly, a beheading while climbing up a ladder is a sleazy babel but the effect of transitioning to an image with cigarette burns neutralizes the harshness. Apparently this town's economy is dependent on the barely solvent mine in which they excavate... an undefined ore. The reaction to a raw heart in a Valentine's Day box is just shy of a fatigued shrug ("It can't be happening again."). This sluggish Canuckploitation horror flick borders unsteadily towards self-parody with the barkeep's recollection of Harry Warden approaching glib Kevin Williamson self-awareness ("Beware the 14th!"). They are seriously tentative about cancelling a dance? The fox trot and other Terpsichore displays are that important? Even though they're middle-aged miners (based on the casting), the day-laborers in Valentine's Bluff act like sex-starved frat boys (towel snapping, pranks with karyo syrup, etc.) which automatically decreases our hope for their survival. On top of subpar motivation, the love triangle at the center only serves to cushion the spaces between slice-and-dice indulgences. Slasher POV was a staple during the 80's and the addition of a helmet wheezing sounds hilariously similar to an iron lung. The most punishable sin is how it retreats whenever Warden's ax is about to sink into someone else and the drudgery through the shafts at the end is a bore. Despite the drawn-out third act, the mine cart fight and pick-ax duel is bountiful, if short-lived fun.
Cory Taylor
Super Reviewer
The kind of crappy slasher that doesn't even manage to be fun, with pedestrian dialogue and a repetitious plot that basically says that men are jerks and women are weak and whiny, forcing us to put up with two ridiculous machos at each other's throats the whole time.
Carlos Magalhães
Super Reviewer
½
During the late seventies and eighties there was a clear trend of slasher genre horror films based around holidays ("April Fool's Day," "Halloween," "Friday the 13th" etc.) While following in this vein, there's something original and dark about this film in contrast. Most of the film is set in the mines of central Canada, where a set of old murders haunts a quiet little town. A lot of the action revolves around a love triangle, the legends of the past, and being young and witless, with nothing to do. The last section of the film is entirely set in the bowels of a blackened mine, where the tunnels and overhead shafts provide plenty of hiding spots for a maddened serial killer. While this film takes great strides to not be the same as others of its caliber, it's still not very memorable. The killer is lame, the twist comes out of nowhere, the characters are idiotic and cowardly, the main female character is irritatingly frightened, and constantly needs saving, and the ending is ridiculous. Though I haven't seen the remake, I recommend it over this film, which is working with basically nothing but visuals, which I can only hope got better by 2009.
Spencer S.
Super Reviewer
My Bloody Valentine Quotes
| | |
| --- | --- |
| Sarah: | "T.J. I have to see him!" |
| Sarah: | T.J. I have to see him! |
| | |
| --- | --- |
| T.J.: | "Same place I always go this time a day. For a beer and a really good nosepick.: |
| T.J.: | Same place I always go this time a day. For a beer and a really good nose pick. |
| | |
| --- | --- |
| Happy: | Damn kids. I'll show them,piss on Harry Warden will they? |
| Happy: | Damn kids. I'll show them, piss on Harry Warden will they? |
| | |
| --- | --- |
| T.J.: | We gotta get the hell out of here! Harry Warden's back! He's killed Sylvia & Dave up top! |