My Bloody Valentine 3-D
(2009)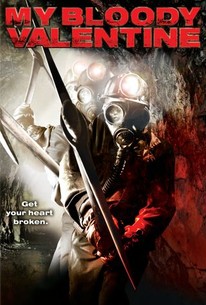 TOMATOMETER
AUDIENCE SCORE
Critic Consensus: This gory, senses-assaulting slasher film is an unpretentious, effective mix of old-school horror stylings and modern 3D technology.
My Bloody Valentine 3-D Photos
Movie Info
A psychopathic miner terrorizes the town of Harmony in this retelling of one of the most underrated slasher films of the early '80s with My Bloody Valentine 3-D. 10-years ago, the lone survivor of an accident deep in the mines awoke from a coma and slashed his way through the town in a bloody, vengeance-fueled rampage. Though shot and apparently killed, the memories of Harry Warden still haunt both the town and Tom Hanniger (Jensen Ackles), the heir to the mine and one of the last people to see Harry before his disappearance. Just as Tom heads back to his hometown after a long time away, so do the killings ramp up again. While he mends his torn relationship with his ex-girlfriend Sarah (Jaime King) and her husband Axl (Kerr Smith), citizens are knocked off one by one in spectacularly gruesome fashion (all presented in 3-D). Has Harry come from beyond the grave or is there a new killer donning the suit and mask? Scream franchise editor Patrick Lussier helms from a script by Zane Smith and Jason X scribe Todd Farmer. Genre veteran Tom Atkins lends his B-movie chops to a supporting character in the Lionsgate production. ~ Jeremy Wheeler, Rovi
Critic Reviews for My Bloody Valentine 3-D
Audience Reviews for My Bloody Valentine 3-D
It's a slasher film with a reverse gimmick. I'm not talking about the 3D effects either, which are typical. The reverse gimmick is sneaky, but I'll tell anyway: most films of this splatter play towards the surprise (but its not anymore, cause everyone does it in all of these films) that the killer isn't who you've been led to think it is, its somebody completely different). The spin here, so wicked its nearly original, is that the killer IS who you think it is. SURPRISE. ;) Oops, spoiler alert. Have fun anyway.
Kevin M. Williams
Super Reviewer
[img]http://images.rottentomatoes.com/images/user/icons/icon14.gif[/img] My Bloody Valentine 3D makes effective and imaginative usage of gimmicky 3D. I haven't actually seen it in 3D but i'll trust the very positive feedback that it's recieved. It takes each opportunity it gets to throw gallons of blood at your face, and as a proud gorehound I found that extremely entertaining, even though overall everything surrounding that is noticeably not that good. The main problem with the film is that it's far too overlong for what it essentialy is. It's also filled with unnecessary subplots that are very uninteresting, but what saves the film is that when it eventually find's it's way and gives us the bloodbath we want from it, not one corner of any of the set's are undrenched with the slimy sticky red stuff. It's also shot with style and directed with some care but in the end it works because it does exactly what it says on the packet and has a fantastic attitude towards giving it's audience exactly what they want. There are many flaws with it but it passes the time very well. As a good old-fashioned nasty gorefest My Bloody Valentine lives up to it's title and in my opinion would serve excellently as a date movie or a relentless flick for gorehounds like me. It's not the best of the recent trend of horror remakes, but it's definitely not the worst. Forgettable but very good at being the cheap, solid, lowbrow fun that it desperately wants to be.
Directors Cat
Super Reviewer
It looks like utter crap. Video cassette quality. That was a real distraction when it began. The plot for a slasher was kind of interesting at first, though starting with the actual cave-in at the mine would have been nice. It also tried to have some character development with Kerr Smith playing a sheriff cheating on his wife. This made a rather ambiguous hero. This could have been good if it had gone somewhere, but you'll guess the killer pretty easily. It even tries to do a complete 180 with flashbacks, but the whole film made it obvious. It's like the writers couldn't be bothered to put any effort in so they just said "Let's actually make it the prime suspect". All the kills are similar, with a pickaxe used every time. I wouldn't even recommend this to real horror buffs.
Luke Baldock
Super Reviewer
My Bloody Valentine 3-D Quotes