My Bodyguard
(1980)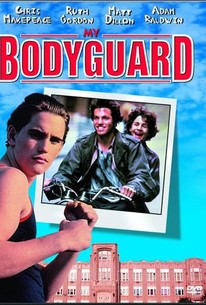 Movie Info
In this coming-of-age comedy-drama from director Tony Bill, a diminutive high schooler (Chris Makepeace) decides to defend himself against the constant victimization of bullies by hiring a shy, muscle-bound student (Adam Baldwin) for protection; gradually, the two outsiders find true friendship.
Critic Reviews for My Bodyguard
Audience Reviews for My Bodyguard
Clifford Peache: Will you be my bodyguard? I'll pay you fifty cents every day. I'll do your homework for you. I'm pretty smart.  My Bodyguard isn't a technically well made film by any stretch. It's a movie that doesn't really know what it is. A lot of the time, it feels like a family movie, with patented dialogue for the kids. Then the next minute, there's all this sexual innuendo and violence. The tones of the film are a little off. Still, this is a film I basically enjoyed. It's not a great achievement on any level, but a nice little drama film with some characters you really grow to care for.  This is another bully movie. Clifford moves into a new school where he is instantly made another victim of the school bully, Moody and his team of goons. Clifford doesn't want to be like all the other kids who pay Moody each day to not get harassed. So he tries to buy protection from a huge kid name Linderman, who has a bunch of legends surrounding his name. He went in a rampage. He rapes teachers. Not even Moody wants to take Lindrrman on. Through hiring him as a bodyguard, the two become good friends. Basically their friendship is what makes the movie. I know it's all a little cliché and all, but when its done right and we actually care about the two of them; it works. Nothing too special going on here. There's a decent cast, with early roles from Adam Baldwin, Matt Dillon, and Joan Cusack. Chris Makepeace also makes for a decent teenager. He plays the role like a real person. He's every normal teenager you will ever meet. He doesn't play to a certain clique like most movies make all of their characters out to be. In real life, people don't work that way. It's worth a look if you like movies of this ilk. Other whys I'd suggest skipping it. Tony Bill doesn't do the audience any favors with his direction and the whole movie ends up resting on the relationship between Clifford and Linderman. Luckily the actors were able to pull off their performances with surprising authenticity. 
Melvin White
Super Reviewer
A great teen drama/comedy movie. The story is both quirky and realistic. I really liked this movie, it's fun.
After all these years I still liked it.
James Alvarez
Super Reviewer
My Bodyguard Quotes
There are no approved quotes yet for this movie.