My Brilliant Career
(1979)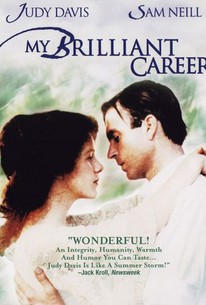 My Brilliant Career Photos
Movie Info
Both actress Judy Davis and director Gillian Armstrong made a big splash on the international scene with this charming Australian film that examines late 19th century Australian society from the perspective of a headstrong woman who refuses to follow convention. The film charts the developing self-awareness of Sybylla Melvyn (Judy Davis) as she grows from an insecure tomboy to a self-assured woman. Sybylla wants to be a writer and stuns her family and friends by her insistence on following her dream. Despite the objections of her family acquaintances, she rejects the marriage proposal from the rich Harry Beecham (Sam Neill) to continue going her own way, in spite of the odds stacked against her in a repressive Victorian environment.
News & Interviews for My Brilliant Career
Critic Reviews for My Brilliant Career
Audience Reviews for My Brilliant Career
A woman with literary aspirations falls for an upper class man who tempts her toward marriage, away from her work. The film sets up a familiar dichotomy: Sybylla finds that she must either pursue her career ambitions or settle down to the expectations of Victorian society and marry. Obviously, this is a familiar construct, one replayed to perfection in Henry James's Portrait of a Lady, but what I found lacking in My Brilliant Career was an exploration of who Sybylla is as an artist. After all, whether or not her book is good and should be written is significant. Instead, what becomes clear is how she doesn't fit in with Victorian, upper-class society and seems even more out of place with lower class society. Her only connection is with Harry Beecham, whom she rejects to pursue her work. Overall, because one side of the conflict is never fully explored, I found most of My Brilliant Career lacking.
Jim Hunter
Super Reviewer
Sybylla Melvyn is a girl with a spark. She's also a girl who refuses to let 19th century sensibilities extinguish it. Set in Australia in the late 1800's, My Brilliant Career chronicles the story of a woman years ahead of her time. Whoever cast Judy Davis as 'plain and ugly' ought to have their eyesight examined. Even without makeup she's absolutely radiant. Otherwise, she is perfectly suited for this engrossing, subtly romantic docudrama. Highly recommended.
Randy Tippy
Super Reviewer
½
Slow moving enlightenment drama with Judy Davis giving an excellent performance as usual. The characters are just to remote to really engage you leaving you feeling little for their stuggles.
My Brilliant Career Quotes
There are no approved quotes yet for this movie.