My Brother The Devil
(2013)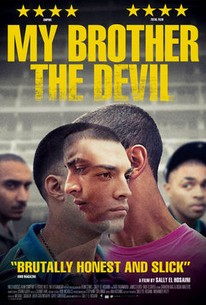 TOMATOMETER
AUDIENCE SCORE
Critic Consensus: A tough, tender tale of familial angst with careful attention to detail, My Brother the Devil is a strong debut from director Sally El Hosaini.
My Brother The Devil Photos
Movie Info
A masterful debut from one of England's boldest and brightest new talents, Sally El Hosaini's MY BROTHER THE DEVIL stars James Floyd as Rashid, a young man from a traditional Arab family who runs with a gang that rules the streets of Hackney, one of London's most ethnically-mixed and historically volatile neighborhoods. Rashid's younger brother, Mo, (Fadi Elsayed) idolizes his handsome, charismatic older brother and dreams of following in his footsteps, but Rashid envisions a different life for Mo and insists that he stay away from gang life and stick to his studies. When Rashid forms a bond with Sayyid (Said Taghmaoui), an older man of similar background who is now a successful photographer, he is introduced to a world he never knew existed. But, just as he decides he wants out of his dead-end life on the streets, Mo decides he wants in, and starts doing drug runs behind Rashid's back. Headed on a collision course of conflicting desires, each young man is forced to face himself and confront the brother he thought he knew. (c) Paladin
News & Interviews for My Brother The Devil
Critic Reviews for My Brother The Devil
Audience Reviews for My Brother The Devil
An excellent film exploring issues of family, religion, culture, sexuality, poverty and what it means to be a man in challenging circumstances. Great direction and an excellent performance by James Floyd. Highly recommended.
Christian C
Super Reviewer
Incredibly powerful and emotionally resonant debut from Sally El Hosaini. It tells the story of two brothers going down very different paths, Rash leaving his gang to get a better life for himself after seeing his friend murdered over a silly thing, and Mo joining the gang his brother just left after Rash, unknowingly, ignores his brother, who looks up to him tremendously, in favor of the new life and world he has found for himself. In many ways, indirectly, Rash's actions pushed Mo into the very life he wanted Mo to avoid. The film handles all of these subjects, on top of themes such as sexual identity in a very conservatively religious household, finding acceptance in all the wrong places, angst, brotherhood, etc. with intelligence and maturity. The film doesn't seek to manipulate your emotions in any way, so everything in the film does feel very genuine, organic, and authentic. The connection between the brothers in the film feels real, this is thanks to the writing and the chemistry between the leads. It certainly needed to be strong because parts of the film are certainly familiar and not wholly unique to this film. But, really, that's hardly a problem when the film is as strongly written and acted as it is. James Floyd is definitely an actor to look out for after this performance. He's got strength and incredible presence. Fady Elsayed, who plays Mo, is also pretty damn strong. There's this certain look in his eyes whenever he's around Rash and his gang, and it's obvious that Mo thinks the world of Rash and wants to be just like him. Of course, he's looking at Rash's world through rose-colored glasses without realizing the dangers that come along with being into that type of stuff. Of course once Mo finds out the truth about Rash, and why he's been the way he's been behaving since he left the gang, completely flips that on its head and he looks at Rash with completely and utter contempt and hatred. To the point where, instead of telling his friends that ****SPOILER**** Rash is gay, he chooses to tell them that Rash is a terrorist. That's how negatively Mo views homosexuality. And it also highlights a bigger problem in society about homosexuality, somehow, being looked at as worse, in some examples, than other, far more horrific things. I know of a local boxer that killed another one in the ring. This guy later came out as gay, and he said that people forgave him for accidentally killing a guy but not for being gay. Not that he needs forgiveness for being who he is and being with whom he loves regardless of gender. And that's not the only example of this, that college football player that came out as gay was predicted to be drafted in the third round, even though he was a great player, because of the fact he was gay. The NFL is a league that has/had murderers in its league, Ray Lewis comes to mind, and he was welcomed back to the league with open arms. This kid comes out as gay, and he's a problem. So I think the film, while showcasing something as negative as Mo thinking terrorism is preferable to homosexuality, before realizing his mistake of course, it highlights an issue that is very real and hopefully one that more people take notice of. Whether it be through this movie, hopefully as it is an incredible movie, or through some other way. I digress, this film is absolutely excellent and a fabulous debut for Sally El Hosaini, hopefully this is the beginning of a great career for her and for her lead actors in the film.
Jesse Ortega
Super Reviewer
There is so, so much going on beneath the surface of what at first appears to be a rather ordinary London based youth/gangster film. Wonderfully shot in Hackney and with at least three standout performances, Sally El Hosaini's debut feature has at it's foundation a strong, well written script layered with explorations of grief, religion/faith, sexuality and morality, and the many contradictions, hypocrisies and realisations therein.
Daniel Parsons
Super Reviewer
My Brother The Devil Quotes
There are no approved quotes yet for this movie.