My Brother's War
(1997)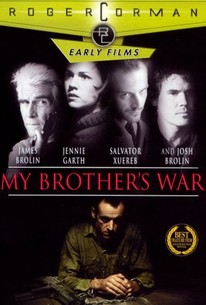 AUDIENCE SCORE
Critic Consensus: No consensus yet.
Movie Info
Actor James Brolin made his directorial debut in this suspense drama about political unrest in Northern Ireland. Gerry and Liam Fallon (Patrick Foy and Salvator Xuereb) are a pair of brothers who, as children, saw their father killed in a street skirmish and have grown up to become gunmen in the Irish Republican Army. When a highly ranked British dignitary is scheduled to visit Belfast, the IRA plan an attack on his motorcade, but after Liam discovers that the politician's wife and children are in the car with him, he tries to stop the planned execution and ends up shooting Gerry and his fellow volunteers. The bombing of the car, however, goes on as planned, killing the diplomat, his family, and several observers. Gerry is sentenced to life in prison, while Liam escapes capture. Following the bombing, a new round of negotiations and an IRA cease fire promises to bring peace to Northern Ireland, but Liam is uninterested in any sort of compromise with British authorities. He organizes a splinter faction of IRA volunteers to step up terrorist actions until Ireland is free. John Hall (Brolin), a former CIA agent from America, lost a sister in the bombing, and wants to help bring Liam to justice. Joining forces with Hall is Gerry, who wants nothing more than to stop his brother's reign of terror and settle down with his girlfriend Mary (Jennie Garth). Hall is able to arrange for Gerry's release in exchange for his help in putting his brother behind bars. James Brolin's son Josh Brolin appears in a supporting role as Pete, one of the IRA terrorists.
Critic Reviews for My Brother's War
Audience Reviews
There are no featured reviews for My Brother's War at this time.
My Brother's War Quotes
There are no approved quotes yet for this movie.