My Cousin Rachel
(2017)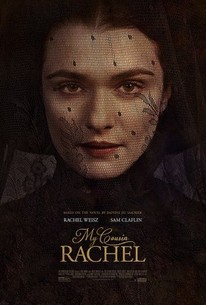 TOMATOMETER
AUDIENCE SCORE
Critic Consensus: Excellent cinematography and Rachel Weisz's entrancing performance keep My Cousin Rachel alluring despite a central mystery that's rather easily unlocked.
Movie Info
A dark romance, MY COUSIN RACHEL tells the story of a young Englishman who plots revenge against his mysterious, beautiful cousin, believing that she murdered his guardian. But his feelings become complicated as he finds himself falling under the beguiling spell of her charms.
News & Interviews for My Cousin Rachel
Critic Reviews for My Cousin Rachel
Audience Reviews for My Cousin Rachel
Based on a best-selling novel, My Cousin Rachel is a compelling dramatic thriller. After the death of his cousin following a whirlwind romance Philip Ashley searches for answers, initially suspecting his cousin's widow of foul play, but he soon falls for her feminine charms...until he finds a secret message left by his cousin. Rachel Weisz gives an excellent performance that really pulls off the ambiguity of the character; seeming both duplicitous and sincere. However, some credit has to go to director Roger Michell, who creates a rich, atmospheric tone that allow Rachel's intentions and actions to be open to interpretation. Also, the sets and costumes are especially well-done, giving an authentic look and feel for the time period. The score too is quite impressive, complementing the material and enhancing the tension and drama. Engaging and mysterious, My Cousin Rachel is a captivating dark romance.
Dann Michalski
Super Reviewer
½
The film's approach is so heavy-handed that it is almost impossible not to think of its protagonist as an idiot and the whole attempt at ambiguity completely lost, trying so hard to convince us of something only to surprise us with an ending that insults our intelligence.
Carlos Magalhães
Super Reviewer
An ambitious try at combining lessons about social prejudice with a basic mystery thriller. This invites the audience often to think the worst of continental Rachel, but nothing is clear, and jumping to conclusions gets you nowhere - is Rachel just culturally different, or actually bad, and who decides what bad is? Is she a victim of the assumptions of the English side of the family, hopelessly romantic on the one hand, and intent on protecting the wealthy estate on the other, or is she a grasping manipulatrix? There was plenty of "I told you so" tutting by the audience when Rachel serves the dubious, foreign tea. The ending more or less tells you the answer, albeit with loose ends. The mixed-race character of Rachel is always in-between - she lacks both the instant, deep fire of her Latin side, nor is she coldly adding up the ciphers; she needed to illustrate the contradiction, but she is soft and unclear; plus she is dressed in quasi-religious style, black Italian mourning, but isn't particularly sad, nor is she irreverent. Weisz is generous and does what she can with a screenplay and direction that need to be more incisive. Her warm and mellow persona was perhaps not the ideal casting - this was a role more in the Kristen Stewart line. Overall though the performances are good, with interesting male support roles; this is a high quality production with fine sets, costumes, and locations in England and Tuscany. Daphne du Maurier drew her female characters with unfailing accuracy - her specialty was teaching you not to judge people too quickly, exemplified in the classic 'Rebecca'. This follows that idea - it just lacks Ms Du Maurier's sureness of aim.
My Cousin Rachel Quotes
There are no approved quotes yet for this movie.