My Entire High School Sinking Into the Sea
(2017)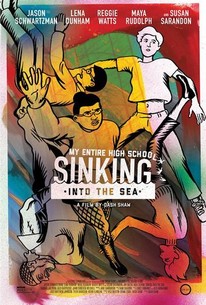 TOMATOMETER
AUDIENCE SCORE
Critic Consensus: My Entire High School Sinking Into the Sea's attention-getting visual style matches debuting writer-director Dash Shaw's distinctive narrative approach -- and signals a bright future for a promising talent.
My Entire High School Sinking Into the Sea Videos
My Entire High School Sinking Into the Sea Photos
Movie Info
From acclaimed graphic novelist Dash Shaw (New School) comes an audacious debut that is equal parts disaster cinema, high school comedy and blockbuster satire, told through a dream-like mixed media animation style that incorporates drawings, paintings and collage. Dash (Jason Schwartzman) and his best friend Assaf (Reggie Watts) are preparing for another year at Tides High School muckraking on behalf of their widely-distributed but little-read school newspaper, edited by their friend Verti (Maya Rudolph). But just when a blossoming relationship between Assaf and Verti threatens to destroy the boys' friendship, Dash learns of the administration's cover-up that puts all the students in danger. As disaster erupts and the friends race to escape through the roof of the school, they are joined by a popular know-it-all (Lena Dunham) and a lunch lady (Susan Sarandon) who is much more than meets the eye. But even as the film piles on brilliant details like a post-apocalyptic cult formed by jocks, video game homages, and an infectious synth soundtrack, it never loses sight of the characters at the heart of the story. Hailed as "the most original animated film of the year" and "John Hughes for the Adult Swim generation" (Indiewire), the film's everyday concerns of friendships, cliques and young love remind us how the high school experience continues to shape who we become, even in the most unusual of circumstances.
News & Interviews for My Entire High School Sinking Into the Sea
Critic Reviews for My Entire High School Sinking Into the Sea
Audience Reviews for My Entire High School Sinking Into the Sea
½
Unaware of this being a first feature or debut for any matter. I found this film to be a hilarious self parody of high school life intersected with the plot to 'A Poseidon Adventure'. This unique film uses a very distinctive graphic novel inspired animation and look to it's characters and setting. it can be described as a sort of flash animation taking up an amateur comic design all to encompass this world of it's satirical message. Even while the animation is wonderful to look at and is fluid in most parts, the film is also surrealistic using the very unusual conventions to it's advantage to express moments of a suspenseful nature or subconscious behavior within the character's visual thought portrayal. Other than that the writing is excellent able to take what's cliche about high school life and turn it on it's head with a disaster plot that doesn't take itself too seriously at all, with plenty of laugh out load jokes. Lastly, I didn't think the film hit any high notes as being a huge recommendation on my part , though I really enjoyed it for what it is, an impressive and enjoyable debut animated feature.
Luke Eberhardt
Super Reviewer
My Entire High School Sinking Into the Sea Quotes
There are no approved quotes yet for this movie.