My Fair Lady
(1964)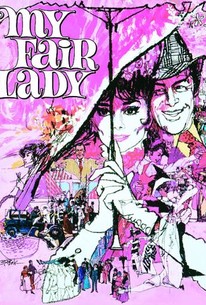 TOMATOMETER
AUDIENCE SCORE
Critic Consensus: George Cukor's elegant, colorful adaptation of the beloved stage play is elevated to new heights thanks to winning performances by Audrey Hepburn and Rex Harrison.
Movie Info
My Fair Lady is now more "lovelier" than ever with a breathtaking new restoration playing in cinemas nationwide for a limited time only. In honor of its 50th Anniversary, this eight time OSCAR winning musical has been restored frame-by-frame from the original 65mm negative and scanned utilizing start-of-the-art technology under the supervision of Robert Harris (the famed film historian).
News & Interviews for My Fair Lady
Critic Reviews for My Fair Lady
Audience Reviews for My Fair Lady
Pygmalion is a great film but not as charming as this My Fair Lady, an adorable musical version of the same play with delightful songs and a splendid cast - but even so, Doolittle's change doesn't seem as gradual here, and the film ends with a rather vexing, sexist conclusion.
Carlos Magalhães
Super Reviewer
Henry Higgins bets that he can turn cockney Eliza Doolittle into a lady. The play on which this musical is based and the film are profoundly interesting. The conception of rhetoric and its relationship to identity are thoroughly explored. By changing Eliza's language does Higgins change who she is? Is that form of education robbing her of her independence and identity? Is that even what we mean by "education?" Should language be changed to fit societal norms? The film and play poses these questions and answers very few. Audrey Hepburn is delightful as always, and Rex Harrison is the perfect conceited intellectual. The love plot is charming and made me smile more than once. The only problem I had with the film's performances is Harrison's singing. He more spoke his words in rhythm than sang them, but after a while, this delivery grew on me. *Spoiler Alert* I wish the story ended differently. There wasn't enough humility on the part of the love-vanquished Professor Higgins, and the final shot of Eliza getting his slippers made me think that neither of these characters learned enough. Overall, this film is very good, a fine representation of its source material.
Jim Hunter
Super Reviewer
½
This is George Cukor's lavish, large budget musical adaptation of George Bernard Shaw's comedy Pygmalion, and the result is something actually quite spectacular. I've always looked at this stroy as being maybe a bit girly, but it's really not the case. It's a very entertaining, and actually quite hilarious (at times) look at class differences and finding one's place in life. Rex Harrison is Professor Henry Higgins, a wealthy, cultured, and highly educated lphoneticist who makes a bet with his colleague Colonel Pickering (Wilfrid Hyde-White) that he can take an uncouth cockney flower girl (Audrey Hepburn) and transform her into a duchess by the time the Embassy Ball comes around. It's a tale as old as time, but a quite endearing one nonetheless, especially since several more versions have been filmed since this one, namely Pretty Woman and She's All That. This particular telling of the story though is one that's quite special. It's rightly regarded as a classic, and one of the best musicals ever. I won't disagree. The music is great, as is the singing ,even though Harrison mostly talk-sings, and Hepburn got dubbed over by someone else. Now that's I've finally seen this version, I'm able to see yet another musical that has been quite influential on Seth MacFarlane, mostly with his show Family Guy. Not only did they make an episode that's a nonmusical remake of this film's presence, but Rex Harrison (his appearance, voice, and mannerisms) is one of the primary influences on the character of Stewie. The story evolves as you think it might, with there being lots of ups and downs, trials and tribulations, and some successes as well as missteps. For the longest time though, the film prrogresses in a rather realistic way by starting to end rather bittersweetly instead of a sappy romantic happy ending. However, shades of this latter ending do start to rear their head, but not enough so to make me totally angry or derail things. Also, while a lot of the music is good, it's not all great, so these reasons are mainly why I'm giving such an otherwise extremely great and well made film a half star less than perfect. Could the film be better? Sure. But not by much, As it stands, this is a very fun movie that's far more enjoyable and engaging than the premise might make it seem. The performances are iconic, the sets and costumes stunning, and the tunes are pretty memorable. Give this one a go. It definitely lives up to its reputation.
Chris Weber
Super Reviewer
My Fair Lady Quotes
| | |
| --- | --- |
| Eliza Doolittle: | (singing) The rain in Spain stays mainly in the plain! |
| Eliza Doolittle: | The rain in Spain stays mainly in the plain! |
| | |
| --- | --- |
| Prof. Henry Higgins: | [singing] Women are irrational, that's all there is to that! Their heads are full of cotton, hay, and rags. They're nothing but exasperating, irritating, vacillating, calculating, agitating, maddening and infuriating hags! |
| | |
| --- | --- |
| Eliza Doolittle: | Come on Dover, move your blumin' arse! |
| | |
| --- | --- |
| Eliza Doolittle: | I washed my hands and face before I come I did. |
| Prof. Henry Higgins: | [elated] ...Eliza? ... Where the devil are my slippers? |