My Favorite Blonde
(1942)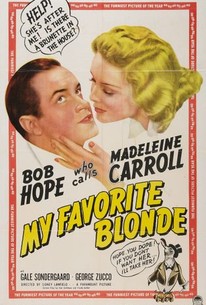 My Favorite Blonde Photos
Movie Info
Each of Bob Hope's "My Favorite" films (My Favorite Blonde, My Favorite Brunette, My Favorite Spy) was, by accident or design, a parody of a dead-serious movie genre. 1942's My Favorite Blonde, for example, was a takeoff of Alfred Hitchcock in general and Hitchcock's 39 Steps in particular. Two-bit vaudeville entertainer Hope gets mixed up with gorgeous blonde British-spy Madeline Carroll. The "maguffin" (Hitchcock's nickname for "gimmick") which ties the two stars together is a ring which contains the microfilmed plans for a revolutionary new bomber. Hope and Carroll are forced to take it on the lam when Hope is framed for murder by Nazi-agents Gale Sondergaard, George Zucco et. al. Highlights include Hope eluding capture by impersonating a famed psychologist (watch for Carl "Alfalfa" Switzer as Hope's most contentious "patient"). Madeline Carroll also got several opportunities to shine comedically, especially when she lapsed into cloying baby talk while posing as Hope's wife. Bob Hope was hesitant to work with My Favorite Blonde director Sidney Lanfield, having heard of Lanfield's reputation as an on-set dictator. However, the two got along so swimmingly that they would collaborate on such future top-notch Hope farces as Let's Face It (1943) and The Lemon Drop Kid (1951).
Critic Reviews for My Favorite Blonde
Audience Reviews for My Favorite Blonde
Another very funny Bob Hope movie. It has humor, excitement, and a bit of suspense. If you're a fan this is a must see.
Great comedic moments from Hope in this classic.
Anthony Valletta
Super Reviewer
My Favorite Blonde Quotes
There are no approved quotes yet for this movie.