My Favorite Wife
(1940)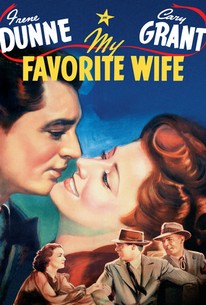 Movie Info
Leo McCarey was supposed to both produce and direct My Favorite Wife, but an illness forced him to relinquish the director's chair to Garson Kanin, who did a splendid job. This hilarious retread of the old "Enoch Arden" legend stars Irene Dunne as Ellen, who returns home to her husband Nick (Cary Grant) and children Tim (Ann Shoemaker) and Chinch (Mary Lou Harrington) after being marooned on a desert island for seven years. Thing of it is, Ellen has been declared legally dead, and Nick has taken unto himself a second wife, the bitchy Bianca (Gail Patrick). Upon discovering that Ellen is still alive, Nick is on the verge of a tender reunion-until it discovers that she spent those seven lost years in the company of handsome Mr. Barkett (Randolph Scott). The superb supporting cast includes Granville Bates as a flummoxed judge, Chester Clute as a meek shoe salesman whom Ellen tries to pass off as Barkett, and Donald MacBride as a beetle-browed honeymoon-hotel clerk. My Favorite Wife was remade in 1963 as Move Over Darling, in which Irene Dunne and Cary Grant were replaced by Doris Day and James Garner.
Critic Reviews for My Favorite Wife
Audience Reviews for My Favorite Wife
i liked this one better than "the awful truth" (a more popular, more well known film), although i don't know why...maybe it's simply the premise appeals to some wacked out sense of comedy i've got somewhere in my attic
Kevin M. Williams
Super Reviewer
My Favorite Wife is one of the lesser, lighter Cary Grant movies. In it, he plays a man whose wife is lost at sea. Seven years later, he goes to the judge to have her declared dead so that he may re-marry. No sooner does he re-marry when his first wife comes wandering back home. She had been living on a tropical island for the last seven years and had only been rescued recently by a passing freighter. Naturally, from this all sorts of chaos arises. Well, some minor chaos. This film is listed as a starring vehicle for Irene Dunne (the original wife), so it's little wonder the new wife (Gail Patrick) is barely in the picture at all. There's very little controversy or dilemma involved on the husband's part. He never considers the new wife, even for a little bit. There's a couple of cute gags, mostly involving the guy Dunne was stuck on the island with (Randolph Scott), but this film is way too slight to make anyone go out of their way to see it.
Devon Bott
Super Reviewer
Dunne and Grant were teamed many a time, but this film seems a bit broader, and filled with moments where you have to suspend your disbelief, including Dunne's tragic circumstances, and Grant's state of marital contentedness. It's all lovey dovey and amazingly sweet, but it specifically works because the two compliment each other with their zany antics and wanton disregard for lack of wit and candor.
Spencer S.
Super Reviewer