My First Mister
(2002)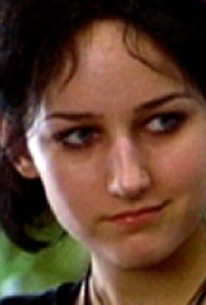 Movie Info
Two people with seemingly nothing in common forge an unusual friendship in this comedy drama that marks the feature-length directorial debut of actress Christine Lahti. Jennifer (Leelee Sobieski) is a teenager in her last year of high school who feels cut off from the world around her. She uses black clothes, body modification, and a defiant attitude as a way of keeping the world at bay, but at heart she feels unattractive and unloved, while her parents -- cheerfully oblivious Mother (Carol Kane) and often-absent Benjamin (John Goodman) -- have no idea of how to communicate with her. One day Jennifer happens by a men's clothing store run by stuffy, middle-aged Randall (Albert Brooks); at first she makes fun of him, and he seems bemused by her, but she ends up asking for a job, and Randall gives her part-time work helping out in the stockroom. While Randall's strait-laced style is a 180-degree turn from Jennifer's goth-grunge persona, they soon learn they both have their share of problems with self-image and share a desperate need to be loved. Soon, "R" and "J" (as they like to call each other) have become fast friends, as she encourages him to take chances and try new experiences, and he tries to show her how to let down the walls she's built around herself and allow others to get to know the real Jennifer. My First Mister also features Mary Kay Place, Michael McKean, and Desmond Harrington.
Critic Reviews for My First Mister
Audience Reviews for My First Mister
½
Simply stated, this was a wonderful discovery. The movie boasts a cast who played off of each other effortlessly, and believably. It was poignant, and timeless. I loved this movie,
Cynthia S.
Super Reviewer
This was a story about a lonely and alienated Goth-like teenager named Jennifer Wilson (Leelee Sobieski) who has a lot of personal baggage (and almost unrecognizable under the tattoos, body piercings and a suicidal fetish.) Then she meets a grumpy clothing store owner (Albert Brooks) and little by little, they generate a real friendship. All bodes well for this tale of the unlikely friendship between two very different characters, who manage to connect despite these differences, not the least being the vast age differences (he's 49 and she is 17). They are clearly soul mates but not in the sexual sense (which in hinted at in one hilarious moment when Jennifer asks Randall upfront if he wants to f**k her and he promptly chokes on his Sanka coffee).
½
My type of movie - people (in this case a Goth chick and a dress salesman) listening to each other and growing emotionally.
My First Mister Quotes
There are no approved quotes yet for this movie.