Mein Führer - Die wirklich wahrste Wahrheit über Adolf Hitler (My Fuhrer)
(2007)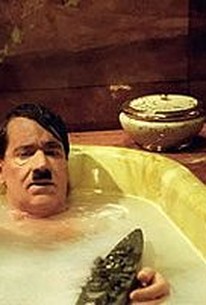 AUDIENCE SCORE
Critic Consensus: No consensus yet.
Mein Führer - Die wirklich wahrste Wahrheit über Adolf Hitler (My Fuhrer) Photos
Movie Info
Sixty years after the fall of the Third Reich, German filmmaker Dani Levy takes the bold step of playing the most notorious man of the 20th century for laughs in this offbeat historical comedy. In December 1944, the war in Europe is in its final stages; Germany has been decimated by Allied attacks, and the Third Reich is fated to collapse in just a few months. With the Nazi empire in tatters, Adolf Hitler (Helge Schneider) is understandably depressed, and while he's scheduled to give a major address to the nation on New Year's Day, he can barely summon up the enthusiasm to get out of bed. Joseph Goebbels (Sylvester Groth), Hitler's propaganda czar, realizes the Führer needs some help to get out of his funk, and thinks some coaching from a trained actor would help him put on a brave face for his big speech. Goebbels approaches Adolf Grünbaum (Ulrich Mühe), one of Germany's most respected thespians, and asks him if he'd be willing to help Hitler prepare for his address; since Grünbaum is Jewish and currently residing in a concentration camp, he jumps at the chance, provided his wife and children are also released and the camp is shut down before the next round of executions. While Goebbels and his men have no intention of honoring Grünbaum's latter request, they are willing to free his loved ones, and soon Grünbaum is spending his days with the emotionally immature dictator as he tries to help him get back on his feet. Meanwhile, Goebbels and SS leader Heinrich Himmler (Ulrich Noethen) suspect that Hitler may be too far gone for help and start hatching a backup plan, in which they'll kill the Führer in a phony accident and seize control of the Reich. No stranger to controversy, writer and directory Levy's previous project was Go for Zucker, a comedy which poked fun at the division of Berlin during the Cold War and one man's opportunistic embrace of Orthodox Judaism.
Critic Reviews for Mein Führer - Die wirklich wahrste Wahrheit über Adolf Hitler (My Fuhrer)
All Critics (3) | Fresh (2) | Rotten (1)
Of anthropological interest, My Führer is like a curio exhibit in a Museum of German Comedy rather than a very amusing or profound entertainment for international audiences.
The cleverest Holocaust humor since Mel Brooks' 'Springtime for Hitler' skit in The Producers.
Audience Reviews for Mein Führer - Die wirklich wahrste Wahrheit über Adolf Hitler (My Fuhrer)
After causing controversy with his previous project "Go for Zucker, writer and directory Dani Levy's latest project does the same. A comedy with Adolf Hitler! The story is happening in December 1944, when Germany has been almost destroyed by the bombardments and the Third Reich (1000 year) rule is almost over after a few years. I don't want to go too deep into the story and ruin your fun, but it is an amazing skill to "fiddle" with the history, and to have people who watch it to believe and laugh at the same time. This is not a movie which will offend one group or another! No! Everyone is just a human in this movie, with their own weaknesses and problems. You will laugh watching sometimes with some kind of understanding and sympathy one of the biggest villains of the humanity! I have to admit that director's skill was so refined that somehow under my skin I could feel even a subtle, subversive form of respect! It wasn't all due to the director, though. Adolf Hitler in this movie is a depressed man brilliantly acted by Helge Schneider. But you will see the other sides as well, because all his character had from social and political interaction in his life was somehow connected with the confrontation of paternal anger and penis envy! Other excellent performances of Hitler's companions Joseph Goebbels (Sylvester Groth) and Adolf Grünbaum (Ulrich Mühe) should be remembered by the lovers of the exceptional acting. If you like unusual humour - don't miss this one... And for the end: Hitler: "Don't take the Holocaust thing so personally... It wasn't even really my idea."
½
Clearly the movie has some good intentions, but I think the movie is so self-aware about how clever it is, when it's really not that clever that it's a complete turn off. It's not bad or anything, but it isn't as funny as it should be the dynamic of having a 'Jew' teach Hitler just never reaches its full comedic potential. And that's really all it boils down to, it's just a miscalculation. It's an average movie at best.
Jesse Ortega
Super Reviewer
½
Original Title: Mein Führer - Die wirklich wahrste Wahrheit über Adolf Hitler
Directed by: Dani Levy
International Film, Dark Comedy & Semi-Melodramatic

Overall this movie had a suprisingly different taste.

I serioulsy dont think this is a movie that the majority of people would gobble up, enjoy, or even get at all. Mainly because the subject matter of this movie is masked.

The story is partly inspired by the theories of Psychologist/Author Alice Miller. Personally I think the film is a mockery of her theories about Adolf Hitler.


The story however does not concentrate soely on Hitler, it is a story told by Adolf Grunbaum, a Jewish actor who was chosen to "inspire and teach" Hitler, before his big proclamation speech to the german nation.
In the begining, Adolf Grundbaum says that that this story is so true, that it might not even be included in any history book ever written.
I think this is quite a creative clever movie with a subtle hint of darkness and evil around it. The "weird image" of Grundbaum in the end was used very cleverly, and I think the movie was made not to make fun of Hitler but of certain people. Humor varies from person to person, and at the end it leaves you with a pretty truthful message.
100 years from now, authors will still write about him, and actors and comedians will still depict him.

Why?

We always want to understand what we cannot truely understand...
Mein Führer - Die wirklich wahrste Wahrheit über Adolf Hitler (My Fuhrer) Quotes
There are no approved quotes yet for this movie.