My Giant
(1998)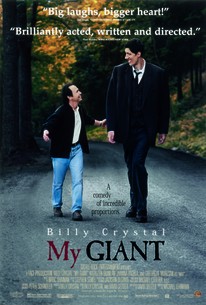 Movie Info
Third-rate talent agent Sammy Kanin (Billy Crystal) is more devoted to his career than his wife Serena (Kathleen Quinlan) and son Nick (Zane Carney), so instead of going to Nick's birthday party, he chooses to travel to Romania where his teen client Justin Allen (Rider Strong) is acting in a period adventure movie. When Sammy's auto swerves off the road, he wakes up in a monastery, having been removed from the wreckage by sensitive, Shakespeare-quoting, 7'7"-tall giant, Max (pro basketball player Gheorghe Muresan), a ward of the monks who works as a monastery caretaker. Sammy sees Max as his ticket to the top, gets him a warrior role in the adventure movie, and takes him back to the U.S. where Max hopes to win back a long-ago girlfriend Lillianna (Joanna Pacula), living in Gallup, New Mexico. Sammy and Max head for Vegas, where actor Steven Seagal (as himself) is shooting a film with a villain role perfect for Max. When Sammy contacts Lillianna, she expresses disinterest in Max, forcing Sammy to seek a solution that can bring the two together.
News & Interviews for My Giant
Critic Reviews for My Giant
Audience Reviews for My Giant
½
A year after the mess that was Father's Day Billy Crystal returned with another stinker and, while this one isn't quite as awful, it's still pretty stinkin' bad. Inspired by his experience meeting Andre the Giant during The Princess Bride, Crystal plays a third rate talent agent struggling to get by. While on assignment in Romania, he gets in a car accident and is saved by a gentle giant named Max who clocks in at nearly 8 feet tall (NBA player Gheorghe Muresan is 7'7"). Seeing a lot of promise in him, Crystal's Sammy tries his best to get Max into the big time, and salvage what's left of his failing career and life. As you might expect, there's a lot of hurdles to get through, and of course, being a scheming weasel, Sammy has some tough lessons to learn about life and humanity. This really could have been a sincere, earnest, and good film. Unfortunately it's handled with little subtlety, originality, and nuance, so the end result is really trite, predictable, and cringe worthy. As a dramedy it's really not all that funny, and the dramatic elements more often than not fall flat and come off as disingenuous and unearned. I'll admit that the Catholic jokes at the monastery and the stuff with Steven Seagal worked and were funny, and I liked a few of the dramatic bits, but overall this was fairly insufferable. I hated the gawking, the obvious routes the film went, and the generally exploitative nature of the proceedings. I felt bad for Muresan, and hope they paid him well for all the stuff done at his expense. Had there been a stronger script, better execution, and a lot more tact, humanity, and heart, then yeah, maybe I'd be on board here. But instead this is shameful, dull, and has almost nothing worthwhile to offer.
Chris Weber
Super Reviewer
½
wane comedy digestible because of the giant, sorta, and a cameo by seagal.
Kevin M. Williams
Super Reviewer
"dont ever see this. are we clear?" "Crystal."
Coxxie Mild Sauce
Super Reviewer
My Giant Quotes
There are no approved quotes yet for this movie.