My Kid Could Paint That
(2007)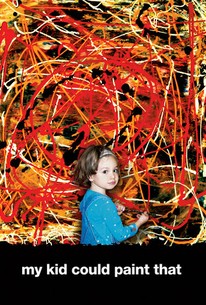 TOMATOMETER
AUDIENCE SCORE
Critic Consensus: Director Amir Bar-Lev grapples with exposing the authenticity of four-year-old Marla's paintings at the sake of burdening her publicly shamed family to transfixing results.
My Kid Could Paint That Photos
Movie Info
A four-year-old girl, whose paintings are compared to Kandinsky, Pollock and even Picasso, has sold $300,000 dollars worth of paintings. Is she a genius of abstract expressionism, a tiny charlatan or an exploited child whose parents have sold her out for the glare of the media and the lure of the almighty dollar?
News & Interviews for My Kid Could Paint That
Critic Reviews for My Kid Could Paint That
Audience Reviews for My Kid Could Paint That
Amir Bar-Lev pilots a frank and bare bones documentary that lightly critiques society's willful or unintentional manipulation of gifted children, the ethics of art dealing and documentary journalism itself, and the snobbery and baldfaced groupthink of the art world. Also of note is the credit given to the underrated skill and sensibility that goes into abstract art. Even people who don't "get" abstract art should still be able to discern cracks in the "Child Prodigy" authorship narrative with Bar-Lev's objective camera, especially in the side-by-side comparison views of Marla's off-screen and on-screen paintings.
Alice Shen
Super Reviewer
A four-year-old shakes the art world with her abstract expressionist paintings, but questions surface about her authorship. Before I saw this film, I only knew that it was about a four-year-old abstract expressionist. The film explored every question that occurred to me when I thought about the concept: does abstract art qualify as art, what are the effects of artistic fame on the child artist, who are the parents, and could this be a hoax. Within the first half hour, the film explores everything, which is a credit to director Amir Bar-Lev. The questions about Marla's authenticity take on a new prominence as the film continues and spark a self-reflective journey for the filmmaker. Is he violating a family's privacy by making the film? It's a question that Bar-Lev doesn't take lightly and rightly so. The film's one weakness is that we don't know enough about Bar-Lev before his experiences with the Olmsteads, so it's late in the film before we can attach ourselves to his journey. But all of these stories are compelling, and the comments about art by New York Times art critic Michael Kimmelman are particularly insightful. For my own part, I think "art" is a big enough word to encompass abstract expressionism and "splatter painting." While I don't find the work particularly compelling, I do find people who talk about the theory behind their work more interesting than the work itself. The same is true with modern art; I don't like looking at a Warhol, but I like listening to Warhol's apologia for his work. While Marla, the child artist, seems blissfully unaware of the firestorm surrounding her work, the parents work tirelessly to protect her name. I find Mark suspicious, and though I don't think Laura is in on the hoax, I think she suspects her husband. Yes, I think it's a hoax, but the film's strength is its ability to avoid making its own conclusions. Overall, I think when I can start thinking about the film's issues rather than how the film is made, it says that the film is good enough to transcend the typical value judgments we employ when we watch films.
Jim Hunter
Super Reviewer
The parents tried to PROVE that they kid does its own drawnings...and even set up cameras, but you can see them showing her to paint here, paint there...I think this is a fraud. I also think abstract art is bs! Just watch and judge it yourself.
My Kid Could Paint That Quotes
There are no approved quotes yet for this movie.