My Lucky Stars (Fuk sing go jiu) (Winners & Sinners 2: My Lucky Stars)
(1985)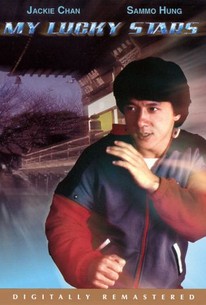 AUDIENCE SCORE
Critic Consensus: No consensus yet.
Movie Info
This is an early onscreen collaboration of Jackie Chan, Sammo Hung, and Yuen Biao. Muscles (Chan) and Ricky (Biao) are two cops who go after a corrupt cop with ties to the Japanese underworld. When Ricky is kidnapped, Fastbuck (Hung), a childhood friend of Muscles, recruits some of their old orphanage friends, now small-time criminals, and this unlikely group goes to the aid of the cops to fight the mob.
Critic Reviews for My Lucky Stars (Fuk sing go jiu) (Winners & Sinners 2: My Lucky Stars)
All Critics (3) | Fresh (1) | Rotten (2) | DVD (4)
"Twinkle Twinkle, Lucky Stars" is quite funny, includes more than impressive action pieces, and also functions as an encyclopedia of the actors who appeared on HK action productions at the time
...Chan could have phoned in his role, it's that small.
Audience Reviews for My Lucky Stars (Fuk sing go jiu) (Winners & Sinners 2: My Lucky Stars)
½
Decidedly not a 'Jackie Chan film' but instead a Sammo Hung film with essentially a guest-starring role for Jackie. And in truth his fights aren't that great, certainly not of the jaw-dropping nature we are used to seeing, only an interestingly staged fight in a funhouse stands out as truly memorable. Third brother from the Peking Opera Yuen Biao has even less screen time. The action takes place mostly during the opening and closing 15 minutes, the rest of the movie has Sammo and his other cronies engaging in comedy set-pieces. Some are funny like Richard Ng believing he has the ability to control other people's thoughts, while others are more stupid than funny like a far-too-long parade of phony burglars so the guys can each get tied up to the lady detective. Yes, very infantile humor abounds so your tolerance will dictate how you find My Lucky Stars. It's one of the few Jackie movies I had yet to see, and its placement in the order of necessity is exactly where I would have scheduled it.
Doctor Strangeblog
Super Reviewer
½
This movie is a step down in terms of sheer martial artistry. Aside from a good opening sequence in a fairground and the last twenty minutes, the rest of the movie is Jackie Chan-less and situation-based comedy springing from the main band of failed crooks. Sammo Hung is the leader of a ragtag bunch heading to Japan for reasons that really only become clear towards the end. Along the way though, there is some rich comedy mined from both the collection of characters. One routine in a Japanese restaurant is priceless, the gag built up well between the different characters and paying off beautifully. All in all, it moves along at a fair pace and is so gently and confidently performed that it's an enjoyable way to spend ninety minutes. A bit more action and a tighter story would have made it more memorable.
Steven Vincent Gee
Super Reviewer
Hilarious and some remarkable action sequences on Jackie Chan, Sammo Hung and Yuen Biao, and marks the Hong Kong debut of Japanese crunch-princess Michiko Nishiwaki, but those who gnash their teeth at extended buddy-buddy gag sequences should be forewarned. I like the scene of Chan fighting his way through the surreal funhouse into a criminal syndicate's headquarters.
Dean McKenna
Super Reviewer
My Lucky Stars (Fuk sing go jiu) (Winners & Sinners 2: My Lucky Stars) Quotes
There are no approved quotes yet for this movie.