Le Château de Ma Mère (My Mother's Castle)
(1990)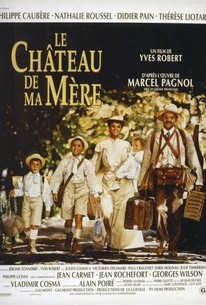 Le Château de Ma Mère (My Mother's Castle) Photos
Movie Info
This charming motion picture relives the beautiful childhood memories of noted film director and writer Marcel Pagnol. While attending school in Marseilles, Marcel Julien Ciamaca daydreams about the nearby hills where he and his family spend vacations at a cottage. It is not enough to sojourn there over Christmas, Easter, and summer holidays; Marcel wants to be there all the time, to roam the fields, climb the rock faces, and enjoy other simple pleasures with his mother, father, and siblings. And then something marvelous happens. His mother Augustine (Nathalie Roussel) persuades his father Joseph (Philippe Caubere), a schoolteacher, to allow the family to spend each weekend at the cottage. Because they have no car, they must ride public transport part of the way, then walk the remaining five miles. However, a former pupil of Joseph's shows them a shortcut that crosses private estates and reduces the distance to only one mile. So the family enjoys weekend after wonderful weekend in the hills. Marcel plays with a country boy, picks thyme for the family's alfresco dinners, and meets a girl whom he rescues from spiders. Though she is an imperious little lass, Marcel is quite taken with her and even performs feats of derring-do to impress her. These carefree weekend outings continue until one day a heartless watchman charges the Pagnols with trespassing on an estate on their way to the cottage. Woe is Joseph. He believes his very proper school will fire him. But when the school officials call him in, they promote him! They know nothing of his trespassing, for Joseph's former pupil has tricked the watchman into dropping the charge. Then more good news comes; Marcel has won an academic prize. The film has a bittersweet ending in which Marcel, as an adult, reviews what has happened to the family members since those wonderful days when life was good and all was right with the world.
Critic Reviews for Le Château de Ma Mère (My Mother's Castle)
All Critics (9) | Top Critics (4) | Fresh (6) | Rotten (3) | DVD (1)
It is likely that no one, not even Pagnol, had a childhood quite this perfect, and yet all happy childhoods grow happier in memory, and it is the nature of film that we can share some of Pagnol's happiness.

Too soft-centered, too bucolically beautiful and too idealized for my taste.
Show how the embrace of place enables us to nourish our inner identity and to stretch our consciousness
Audience Reviews for Le Château de Ma Mère (My Mother's Castle)
½
From the way the critics talk, you'd think this was some light-weight piece of fluff. It's not. Far from it. I think some critics may be deceived because this seems so much a children's story, but just because the story appears to be told from a child's perspective, does not make it a piece of juvenalia. The narrator is actually a full grown adult ala CInema Paradiso, and the story he tells, while it is perhaps not as powerful as Cinema Paradiso, is definitely powerful enough.
This seems to be a cross between a slice-of-life and a coming-of-age film. It is both, but it is also a story of a mother who endures much with no complaint in order for the members of her family to succeed. She truly is their their bedrock, their stable foundation, and she pays the price for this fortitude.
Lanning : )
Super Reviewer
Le Château de Ma Mère (My Mother's Castle) Quotes
There are no approved quotes yet for this movie.