My Name Is Khan
(2010)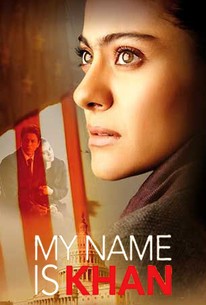 TOMATOMETER
AUDIENCE SCORE
Critic Consensus: My Name Is Khan rests on powerful performances to tell an affecting story that blends timely themes and old-fashioned Bollywood melodrama.
Movie Info
A benevolent Asperger's sufferer, Rizwan Khan (Shah Rukh Khan), sets out on a journey across America on a mission to win back his one true love. As his travels continue, Khan inspires optimism and joy in the hearts of the people he encounters by spreading messages of goodwill wherever he roams. ~ Jason Buchanan, Rovi
Critic Reviews for My Name Is Khan
Audience Reviews for My Name Is Khan
A awesome film. Bollywoods answer to Rain Man. This film has to move you just a little. Never seen any previews for this one in America. Like I said could have been title Rainman in Love. 5 stars 3-12-13
Bruce Bruce
Super Reviewer
½
Spurred by his wife's response to prejudice, a Muslim with Asperger's journeys across America to meet the President. Is this film over-wrought? Yes. Is it melodramatic? Yes, Is it horribly predictable? Yes. Does it pound its audience over the head with its message? Yes. Does the music over-blow every dramatic moment? Yes. Are there maybe two subtle moments in the entire two and a half hours? No, not even two. My Name Is Khan (pronounced "Khan" from the epiglottis) is all of these things, yet I almost loved it. I'm ashamed of liking it as much as I do. I feel like I should have been rolling my eyes instead of wiping tears from them. I think the film worked for me because I'm aligned with its message, and the happy beginnings of the film were just so damn charming. Khan's pursuit of Mandira was remarkably endearing, from the couple's game of hide and seek to Mandira's challenge to find an area of the city she hadn't seen. The film sucked me in with these moments, and I was hooked for the rest of the ride. Overall, it's not a Lifetime movie, but it's the next best thing - a movie in the Lifetime genre done well.
Jim Hunter
Super Reviewer
An ordinary man, An extraordinary journey ... FOR LOVE. I had to see it again! Perfect Movie! There is no words but AMAZING to describe this superb film. During November 2007, San Francisco-based autistic Rizwan Khan, en-route to meet President George W. Bush so that he can convey that his name is Khan and he is not a terrorist, recalls his life, initially with his Bombay-based dad, Dilawar Amanaullah Khan; mom, Razia; and brother, Zakir. Dilawar works for the State Transport workshop in Borivali, and Rizwan accompanies him, learns the trade, and can repair virtually anything. After his passing, Rizwan is abused by his classmates, as well as by Zakir, who feels neglected, so she hires Wadia to teach Rizwan. Years later, Zakir decides to re-locate to U.S.A., and once there, gets married to Hasina. He sponsors Razia and Rizwan, but Razia passes away. In San Francisco, where Zakri runs 'Mehnaz Herbal Beauty Products', Rizwan is hired as a door-to-door salesman, while Hasina concludes that he has Asperger's Syndrome. While selling products, he meets with and is attracted to a Hindu Salon worker, Mandira Rathod, a single mother of Sameer, whose husband abandoned her and re-located to Australia. Both Rizwan and Mandira decide to get married much to Zakir's chagrin, who asks Rizwan to leave. The trio re-locate to Banville, open their own salon, encounter racial profiling after the 9-11 terrorist attacks, are blacklisted, shunned and suffer losses, and then Sameer gets killed. Mandira blames Rizwan for her plight and asks him to leave, while she decides to pursue Sameer's death with Detective Miguel Garcia. Rizwan sets on his journey to meet Mr. Bush - little knowing that soon he will be detained as a terrorist suspect himself and held at an unknown location.
My Name Is Khan Quotes
| | |
| --- | --- |
| Rizwan Khan: | Prayers should never depend upon the place or the people. It should depend only on your belief |
| Rizwan Khan: | Prayers should never depend upon the place or the people. It should depend only on your belief. |
| | |
| --- | --- |
| Rizwan Khan: | The theory of entrainment in Physics states that some specific sounds increase the rate of your heartbeat. For me, Mandira, that specific sound has always been your laughter |
| Rizwan Khan: | The theory of entrainment in Physics states that some specific sounds increase the rate of your heartbeat. For me, Mandira, that specific sound has always been your laughter. |
| | |
| --- | --- |
| Rizwan Khan: | Remember one thing, son. There are only two kinds of people in this world. Good people who do good deeds. And bad people who do bad. That's the only difference in human beings. There's no other difference. Understood? What did you understand? Tell me. Tell me |
| Rizwan Khan: | Good people. Bad people. No other difference. |
| | |
| --- | --- |
| Rizwan Khan: | My name is Khan, and I am not a terrorist. |