My Name Is Modesty: A Modesty Blaise Adventure
(2004)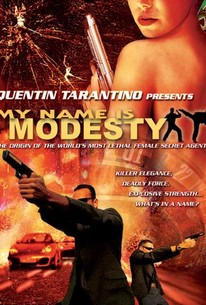 AUDIENCE SCORE
Critic Consensus: No consensus yet.
My Name Is Modesty: A Modesty Blaise Adventure Photos
Movie Info
Peter O'Donnell's novels and comic strip was previously brought to film by actress Monica Vitti and director Joseph Losey in an eponymous 1966 spy spoof. Quentin Tarantino had been interested in bringing the character to the screen for a series of films, but the idea languished. Reportedly, Miramax rushed My Name Is Modesty into production because their option on the material was on the verge of expiring. While there were rumors that Luc Besson was going to direct, with Natasha Henstridge starring, that version never came to fruition. The film was released straight-to-video with Tarantino's imprimatur. Relative newcomer Alexandra Staden plays Modesty, and the film serves as a prequel, an introduction to the character of O'Donnell's work. It opens in the Balkans where some soldiers happen upon a resourceful little girl, a wild child. The film then flashes forward to Modesty as a young adult running a casino for the shady businessman, Louche (Valentin Teodosiu). When ruthless bandits attack the casino and the staff is taken hostage, Modesty secretly signals her partner, Garcia (Raymond Cruz), that there's trouble, then buys time by engaging the bandit leader, Myklos (Nikolaj Coster-Waldau of the original Nightwatch), in a battle of wits. She uses the roulette wheel to barter the lives of the hostages for bits and pieces of her life story. And so the film flashes back to her orphaned past, showing how she was taken in by Lob (Fred Pearson), a wily older gentleman, who taught her to read and write several languages and how to thrive in a dangerous world.
Critic Reviews for My Name Is Modesty: A Modesty Blaise Adventure
There are no critic reviews yet for My Name Is Modesty: A Modesty Blaise Adventure. Keep checking Rotten Tomatoes for updates!
Audience Reviews for My Name Is Modesty: A Modesty Blaise Adventure
½
A small oddity action drama with what appears to have originated out of eastern europe. The adversaries look like they stepped out of a 'Just for Men' hair trimmer commercial, with their perfectly groomed beards and haircuts. A fairly simple story with competent acting by faces and names I doubt you have heard of. The story is fleshed out through flashbacks retelling Modesty's background, and loses steam in doing so. A cheesy, unspectacular ending, which just about sums up this film.
Surprisingly a fairly good film, I'd assumed it may have been a flop as I'd not heard much about it. Adapted from a comic, but not filmed in the way comic films tend to be.
Lady D'arbanville
Super Reviewer
My Name Is Modesty: A Modesty Blaise Adventure Quotes
There are no approved quotes yet for this movie.